Education
Accruing to benefits of NEP: IIM Sambalpur announces new optional dual-degree course in collaboration with international universities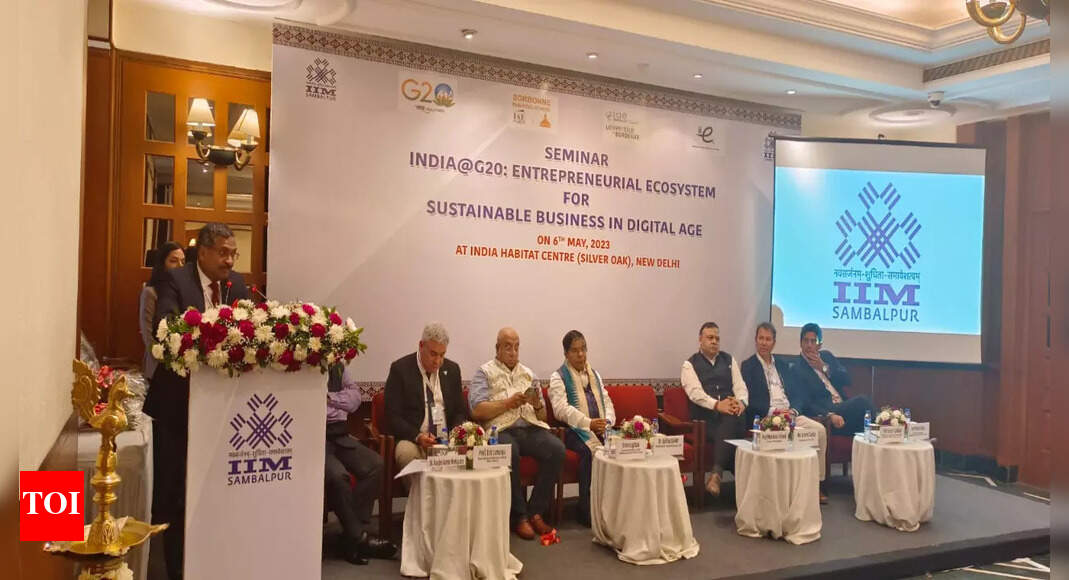 NEW DELHI: Indian Institute of Management (IIM) Sambalpur on Saturday announced the opening of its new campus in New Delhi. The well-appointed new campus will be located in The Institute for Studies in Industrial Development (ISID) campus in South Delhi's Vasant Kunj Industrial Area.
IIM Sambalpur also plans to conduct short as well as long-duration executive and other programmes in management from the new ISID campus, drawing upon both the ISID infrastructure and its faculties. The objective is to cater to a lot of working professionals, executives, and entrepreneurs who want to pursue management studies (along with an option of a dual degree from international universities) on weekends from a premium IIM besides continuing their respective trade and profession.
"I congratulate IIM Sambalpur for taking this crucial initiative to support the startup ecosystem in the country. IIM Sambalpur's logo is a whole graphic depiction of the core values of IIM Sambalpur ie, Innovation, Integration, and Inclusiveness. IIM Sambalpur, with its core values, will nurture our future leaders whose primary goal will be sustainability by keeping an entrepreneurial mindset. I hope this executive MBA programme will provide many future leaders to the nation with a global outlook and dynamic approach to solving the problem," Dr Subhas Sakar, minister of state for education, government of India said.
Dr Mahadeo Jaiswal, director of IIM Sambalpur, said, "IIM Sambalpur is known as the 3.0 version of IIMs since it is built on three main pillars, ie, Innovation, Integration, and Inclusiveness. It is a third-generation IIM that focuses on three primary aspects: Teaching, research, and incubation. IIM Sambalpur is the only IIM where we have set a benchmark of having an equal number of male and female students, a trend that is set by IIM Sambalpur. The institution has announced a one-of-a-kind project 'weaversvallys.com' to provide upmarket access to products of 30,000 world-class weavers from Sambalpur and other regions of Odisha through a digital platform".
Commenting on the new campus and new course launch, he said, "We are thrilled to announce the opening of our new campus in Delhi. The institution is devoted to providing the greatest quality education and to fostering a community of professionals capable of driving change and leading organizations to success. With this new campus, we aim to further our mission of providing world-class management education from a premium IIM to students and professionals across India. We look forward to welcoming students, entrepreneurs, and professionals to our new campus in Delhi".
New course launch
IIM Sambalpur also announced a new two-year hybrid MBA program specifically for working professionals, strategic leaders, and entrepreneurs having a minimum experience of 3 years. The programme is offered in a blended mode, with the option of obtaining a dual degree from international universities as per the latest NEP. It will be conducted on weekends at the ISID Campus of IIM Sambalpur's Delhi Centre. A judicious mix of flipped classrooms, lectures, case discussions, project work, term papers, role-play, seminar presentations, assignments, management games, and simulations would be used in a blended mode to impart education to the participants so that they can transform themselves into future innovative leaders.
On successful completion of the course, the participants will get the following benefits:
MBA, 2-year degree programme in Delhi with an option of dual degree from Sorbonne Business School, Paris, France, Institute of International Universities Consortium (IIE), Paris, France, and University of Bordeaux, France
International Immersion Programme
Interactions with corporate and faculties from top national and international Business Schools
Build influential connections
IIM Sambalpur alumni status
Rigorous, cutting-edge curriculum with entrepreneurial orientation
Flipped classroom pedagogy
Focus on cohort diversity across nationalities
Specialisation in Digital Strategy & Product Management, Entrepreneurial Innovation, and Functional domain
Overall, the launch of IIM Sambalpur's new campus in Delhi represents a significant milestone to carry out joint policy research and capacity-building activities, including an incubation center to promote the innovative entrepreneurship ecosystem in the country.