Politics
Biden education secretary roasted for claiming 'teachers know what is best' for parents' kids: 'Crazy'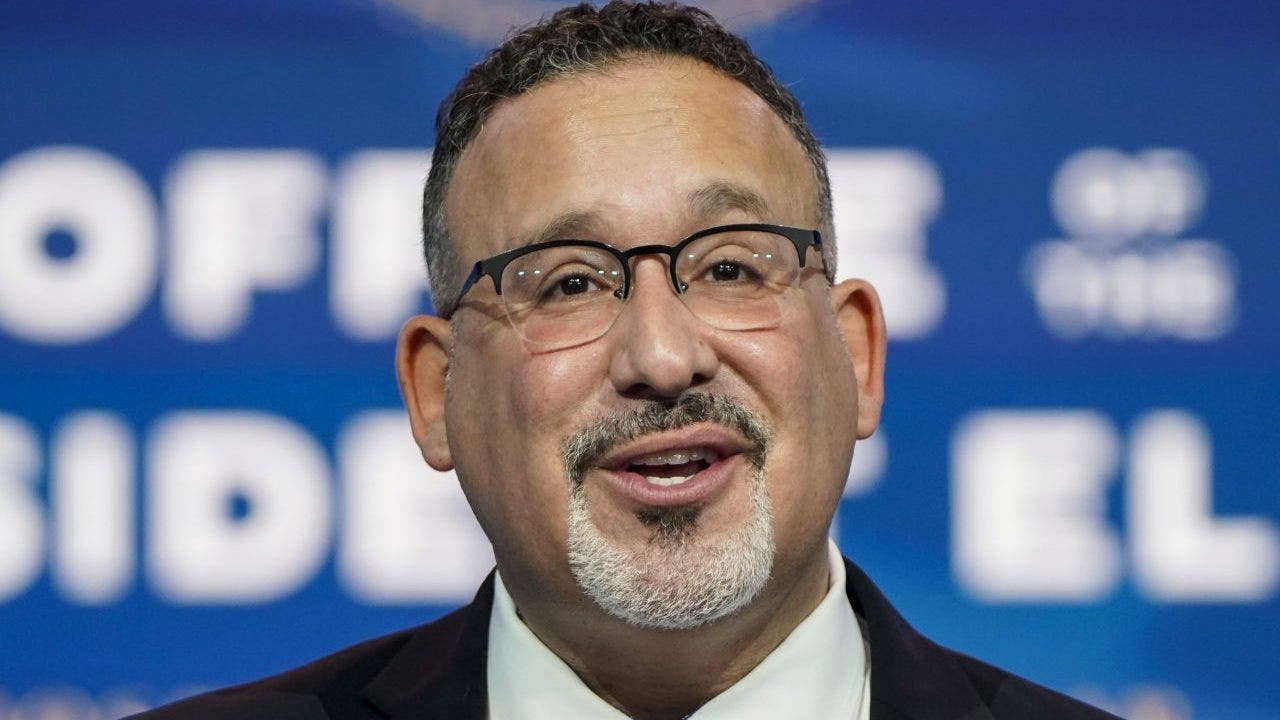 Education Secretary Miguel Cardona was roasted Friday after he claimed that teachers, rather than parents, know what is best for children.
"Teachers know what is best for their kids because they are with them every day. We must trust teachers," Cardona wrote on Twitter.
Critics took to social media reacting angrily to Cardona's claim, with some calling it "crazy," and others mockingly suggesting he must have gotten his words mixed up.
BIDEN OFFICIAL TAKES FIRE IN HEATED EXCHANGE OVER STRIPPING LUNCH MONEY FROM SCHOOLS PROTECTING GIRLS' SPORTS
"Parents know what is best for their kids because they raise them every day. We must trust parents. Fixed it for you [Secretary Cardona]," Republican presidential candidate and former U.N. Ambassador Nikki Haley wrote, while GOP strategist Matt Whitlock said, "Crazy that you guys keep saying stuff like this out loud."
"The Biden admin's official policy: screw parents," wrote Steve Guest, a special advisor to Sen. Ted Cruz, R-Texas, while another critic simply wrote, "Absolutely not."
Rep. Matt Gaetz's, R-Fla., communications director, Joel Valdez, responded by calling for the Department of Education to be abolished.
MIGUEL CARDONA REPEATEDLY REFUSES TO DEFINE 'WOMAN; IN TENSE HEARING EXCHANGE WITH GOP'S CLYDE
"Whose kids?" wrote Sen. Tim Scott, R-S.C. and school choice advocate Corey DeAngelis, while author Tim Carney wrote, "Teachers are great supporters of parents, who are the primary educators of children."
The criticism of Cardona comes just days after he came under intense fire during a contentious House hearing concerning the Biden administration's proposed changes to Title IX rules that would force schools receiving federal finding to allow biological males to compete in girls' sports.
At the hearing, Cardona clashed with Rep. Jim Banks, R-Ind., who grilled him on what would happen to students who take advantage of school lunch programs at schools affected by funding cuts for not complying with the proposed rule change.
Cardona also drew the ire of lawmakers during an April hearing in which he repeatedly refused to define what a "woman" was.
CLICK HERE TO GET THE FOX NEWS APP