Sports
Curtis Jones shines as Liverpool defeat Leicester in crucial clash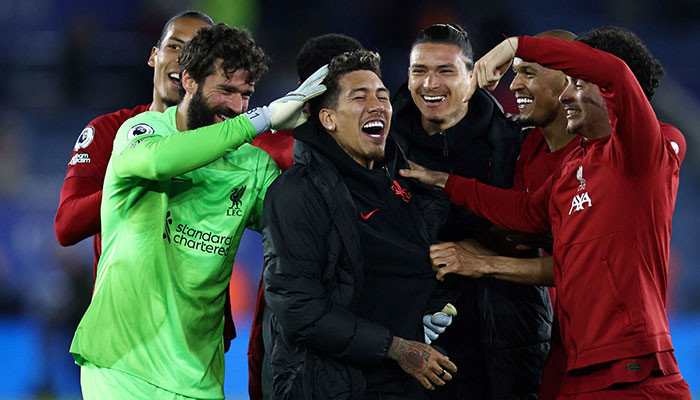 Liverpool took a step closer to securing a Champions League spot for next season with a resounding 3-0 victory over Leicester at the King Power Stadium. 
Curtis Jones was the star of the show, scoring two goals, while Trent Alexander-Arnold also found the net with a sensational strike. The win puts Liverpool within one point of the top four, increasing the pressure on their rivals, Newcastle and Manchester United, who have three games remaining compared to Liverpool's two.
Liverpool manager Jurgen Klopp expressed his team's determination, stating that they are doing everything they can to secure a Champions League spot. Klopp acknowledged the unforeseen turnaround in their European prospects, saying, "I think we have qualified for European football which six weeks ago wasn't in sight."
Meanwhile, Leicester City's Premier League future hangs in the balance as they remain two points away from safety with only two games left to play. The Foxes face a daunting task in their next match against Newcastle, which could seal their fate if Everton or Leeds win over the weekend. Leicester interim boss Dean Smith emphasized the importance of winning their upcoming game, acknowledging the challenges that lie ahead.
Leicester's defensive vulnerabilities were exposed once again as Curtis Jones scored twice in quick succession. Liverpool's Mohamed Salah played a crucial role, providing assists for both of Jones's goals. Despite the early promise shown by Leicester, they struggled to mount a comeback, leaving their home crowd frustrated.
Liverpool's resurgence coincided with Trent Alexander-Arnold's new role as a deep-lying playmaker in midfield. His impressive performance was capped off with a stunning goal from outside the box. Although Salah missed a clear-cut chance to extend Liverpool's lead, the victory ensures that Liverpool will at least participate in the Europa League next season.
Liverpool's fate for Champions League qualification now rests on the performances of Newcastle and Manchester United in their remaining fixtures. Liverpool will hope for a late-season collapse from their rivals while continuing to focus on their own job.