US Nation
GOP lawmakers slam Biden admin for proposing chocolate milk ban in schools: 'Brazen government overreach'
U.S. Reps. Elise Stefanik, R-N.Y., Glenn Thompson, R-Penn., and Virginia Foxx, R-N.C., are blasting the Biden administration and the USDA for proposing to ban chocolate milk for elementary and middle school students.
In recent statements, the GOP lawmakers criticized the potential ban as "brazen government overreach" that is "totally unacceptable."
The U.S. Department of Agriculture has claimed it is considering instituting a ban on chocolate milk and other flavored dairy drinks for the sake of the health of elementary and middle school students. 
DEMOCRATS DEMAND UNIVERSAL FREE BREAKFAST, LUNCH, DINNER, AND A SNACK FOR KIDS IN SCHOOL 
The justification for the potential ban is that these drinks are as bad for young children as soda, often containing as much added sugar as the carbonated beverages. 
Part of the agency's proposal document read, "USDA is proposing to allow flavored milk for high school children only (grades 9-12). This approach would reduce exposure to added sugars and would promote the more nutrient-dense choice of unflavored milk for young children when their tastes are being formed. The proposed regulatory text for this alternative would allow flavored milk only for high schools."
The USDA under Biden is reportedly also weighing an option beside an outright ban, mulling over a regulation to limit the drinks' added sugars.
A decision on the ban will be made early next year, and if enacted, would go into effect for the 2025-2026 school year. 
Conservative lawmakers have slammed the potential ban in recent statements. Stefanik, whose opposition to a similar chocolate milk ban in New York City helped compel Mayor Eric Adams to shelve it, grilled the USDA's ambitions as "totally unacceptable."
In her statement, Stefanik claimed, "I will always lead the fight to save chocolate milk and protect our Upstate New York and the North Country dairy farmers. When New York City Mayor Eric Adams tried to ban chocolate milk, I led the successful effort to fight back and won on behalf of families and farmers."
Last year, Stefanik claimed Adams' proposal was part of a scheme to phase out dairy products and replace them with "vegan juice" among young students. At the time she said, "But make no mistake, any effort of Mayor Adams to ban chocolate milk and replace it with vegan juice is an absolute non-starter and will be opposed by parents, families, kids, and New Yorkers. I will continue to lead the effort to protect real dairy products in schools for the sake of our kids."
SCHOOLS SAY AMERICAN KIDS ARE HUNGRY AS INSTITUTIONS FACE DEBTS FOR UNPAID MEALS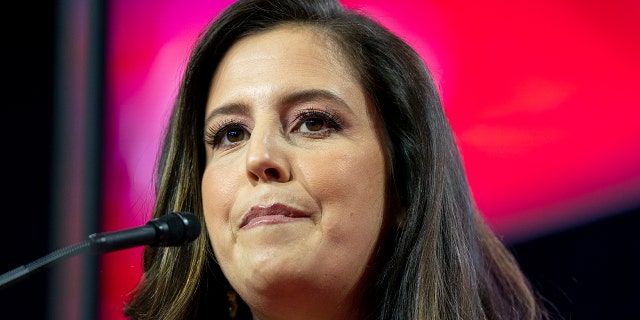 In her new statement, the congresswoman targeted President Biden for allowing his administration to entertain a similar proposal on a federal level, despite it being railed against and shot down in New York. She claimed, "Now, Joe Biden is embracing this Far Left radical proposal to ban chocolate milk. This is totally unacceptable, and I will do everything in my power to stop these efforts. Flavored milk is one the best ways for kids to get essential dairy nutrients for growth and development."
Thompson, who is the Chairman of the House Committee on Agriculture, claimed, "First it was your gas stove, and now it is your child's school meal. President Biden's proposal to ban chocolate milk is another example of brazen government overreach."
He added, "I'm proud to stand with America's dairy farmers against Biden's intrusion into our school cafeterias. Chocolate milk is a calcium-rich childhood favorite, and it is here to stay!"
And Foxx blasted the proposal, saying, "The Biden administration believes that the federal government knows best in everything. As a result, we continue to see this administration impose top-down regulations that do more harm than good. The contents of school meals are best left to local professionals and the cafeteria staff who care for America's students every day and know what they will eat."
CLICK HERE TO GET THE FOX NEWS APP
Fox News Digital reached out to the White House press secretary's office to get a comment on GOP opposition to the ban proposal and is awaiting a response.