A U.S. Navy destroyer that was sunk during World War II, claiming the lives of 84 American sailors, has been found off the coast of Japan, officials have confirmed. 
The Naval History and Heritage Command (NHHC) announced Thursday that it authenticated the wreckage of USS Mannert L. Abele in waters near Okinawa. 
"Mannert L. Abele is the final resting place for 84 American Sailors who made the ultimate sacrifice in defense of their country," NHHC Director Samuel J. Cox – a retired U.S. Navy rear admiral — said in a statement.  
The Navy agency said its "Underwater Archaeology Branch used information provided by Tim Taylor, an ocean explorer and CEO of Tiburon Subsea, and Taylor's 'Lost 52 Project' team to confirm the identity of Mannert L. Abele." 
WWII VET, 101, 'FINALLY' WALKS AT GRADUATION 80 YEARS AFTER HAVING TO MISS CEREMONY AMID GLOBAL WAR 
"My deepest thanks and congratulations to Tim Taylor and his team for discovering this wreck site," Cox added. "Its discovery allows some closure to the families of those lost, and provides us all another opportunity to remember and honor them." 
The Navy said on April 12, 1945, USS Mannert L. Abele became "the first U.S. Navy vessel sunk by the human-guided kamikaze bomb." 
The ship was operating that day 75 miles off the northern coast of Okinawa "when enemy aircraft appeared on radar," according to the NHHC. 
"Mannert L. Abele engaged with, and damaged multiple enemy aircraft, until eventually an aircraft managed to crash abreast of the after fireroom on the starboard side, penetrating the after-engine room," it said. "A minute later, the ship was hit at the waterline by a Yokosuka MXY-7 Ohka (Cherry Blossom) rocket-powered human-guided bomb, and the resulting explosion caused the ship's bow and stern to buckle rapidly." 
'DO YOU KNOW THESE WWII VETERANS?' MISSOURI HISTORICAL SOCIETY ASKS FOR HELP IN IDENTIFYING UNNAMED HEROES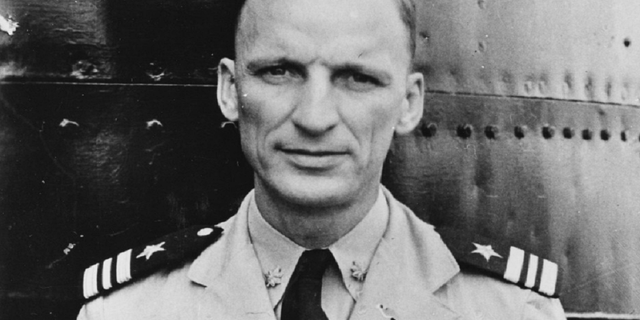 The wreck was reportedly found by Taylor's "Lost 52 Project" team in December last year. 
"This discovery is very personal to Mr. Taylor. His father served in the Navy as part of the lead invasion force in the Battle of Okinawa and he witnessed the Kamikaze firsthand when one plowed into his ship the USS Telfair," the team's website says. 
USS Mannert L. Abele – which launched about a year prior to its sinking — got its name from the Navy lieutenant commander who was born in Quincy, Massachusetts, in July 1903. 
Lt. Cmdr. Abele assumed leadership of the submarine USS Grunion, which came under attack in waters near Kiska, Alaska in July 1942 "from three unidentified Japanese vessels," according to the NHHC.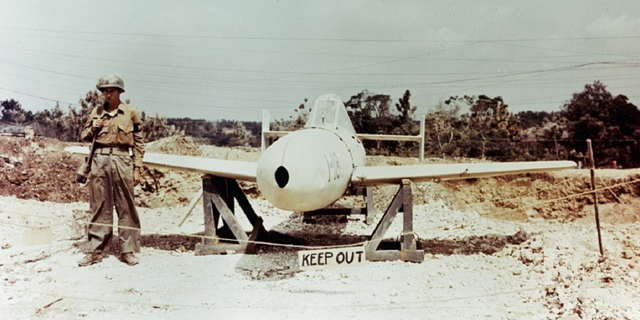 CLICK HERE TO GET THE FOX NEWS APP 
"Firing a spread of torpedoes at her tormentors, Grunion allegedly sank all three," it said, noting Abele received a Navy Cross citation for his actions. 
That submarine then vanished the following month until Taylor's team found it in 2007 using "information gathered by Abele's sons Brad, Bruce, and John, during a four-year investigation into the loss of their father's boat," the NHHC also said.