Politics
Nebraska police arrest 6 at state capitol, including woman who punched trooper, amid abortion, trans debate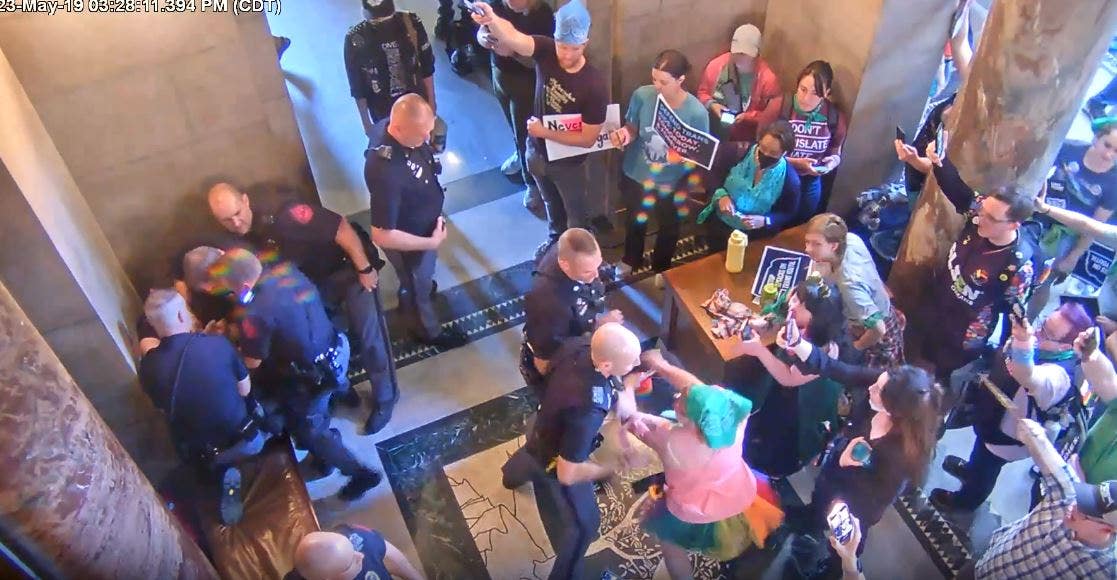 At least six people were arrested at the Nebraska state capitol building Friday after protests broke out as lawmakers passed a bill that bans abortions after 12 weeks and restricts gender transition procedures for those under 19.
Debate was stopped briefly around 2:40 p.m. while arrests took place in a chamber balcony where those opposing the controversial bill yelled and threw what appeared to be bloody tampons onto the legislative floor. The balconies were cleared for the remainder of the debate. 
Lucia Salinas, 24, and Maghie Miller-Jenkins, 36, were arrested for allegedly obstructing a government operation and disturbing the peace, the Nebraska State Patrol said in a release sent to Fox News Digital. 
Mar Lee, 25, was arrested for allegedly disturbing the peace and trespassing after he refused to leave the balcony for repeatedly yelling. Danna Seevers, 56, who was on the opposite balcony for people who supported the bill, was also arrested for allegedly disobeying a lawful order when she also refused to leave, the state patrol said.
RHODE ISLAND GOV. MCKEE SIGNS OFF ON BILL LETTING STATE FUND ABORTIONS
About an hour later, as troopers were attempting to take a man who was allegedly trying to prevent a Sgt. at Arms from opening a door at the back of the legislative chamber into custody, a woman punched a trooper in the chest when he prevented her from pushing past him. 
Benjamin Buras, 40, and Sara Crawford, 33, were both arrested in that incident. 
Buras was arrested for resisting arrest and trespassing after officers said he didn't comply with orders to leave. Crawford was arrested for allegedly obstructing a peace officer.
All six were booked into the Lancaster County Jail.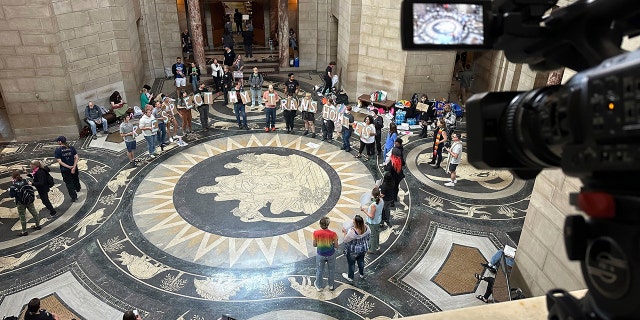 Republican Gov. Jim Pillen said he plans to sign the controversial bill that passed after Republicans got enough votes to end a filibuster. 
TRUMP SAYS HE WOULD REACH ABORTION 'DEAL' THAT THE 'WHOLE COUNTRY CAN AGREE WITH'
Protesters have been demonstrating at the capitol in Lincoln, Nebraska this week since lawmakers advanced the bill on Tuesday. 
More videos on social media appeared to show police clashing with other protesters outside the chamber whose chants of "Shame, shame!" could be heard by voting lawmakers.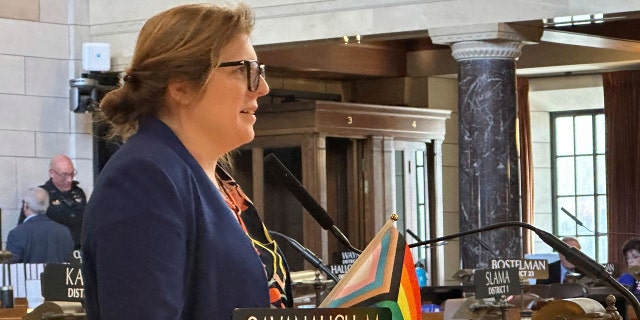 The 12-week abortion ban has exceptions for rape and incest and the bill wouldn't allow transgender people under 19 years old to undergo gender surgery but with few exceptions. 
CLICK HERE TO GET THE FOX NEWS APP
Nebraska currently bans abortion around 20 weeks and is one of multiple states that has recently passed abortion and transgender laws. 
Last month, a proposed six-week ban failed to advance. 
The Associated Press contributed to this report.