Autocar
Ola S1, Ather 450X, TVS iQube April 2023 sales numbers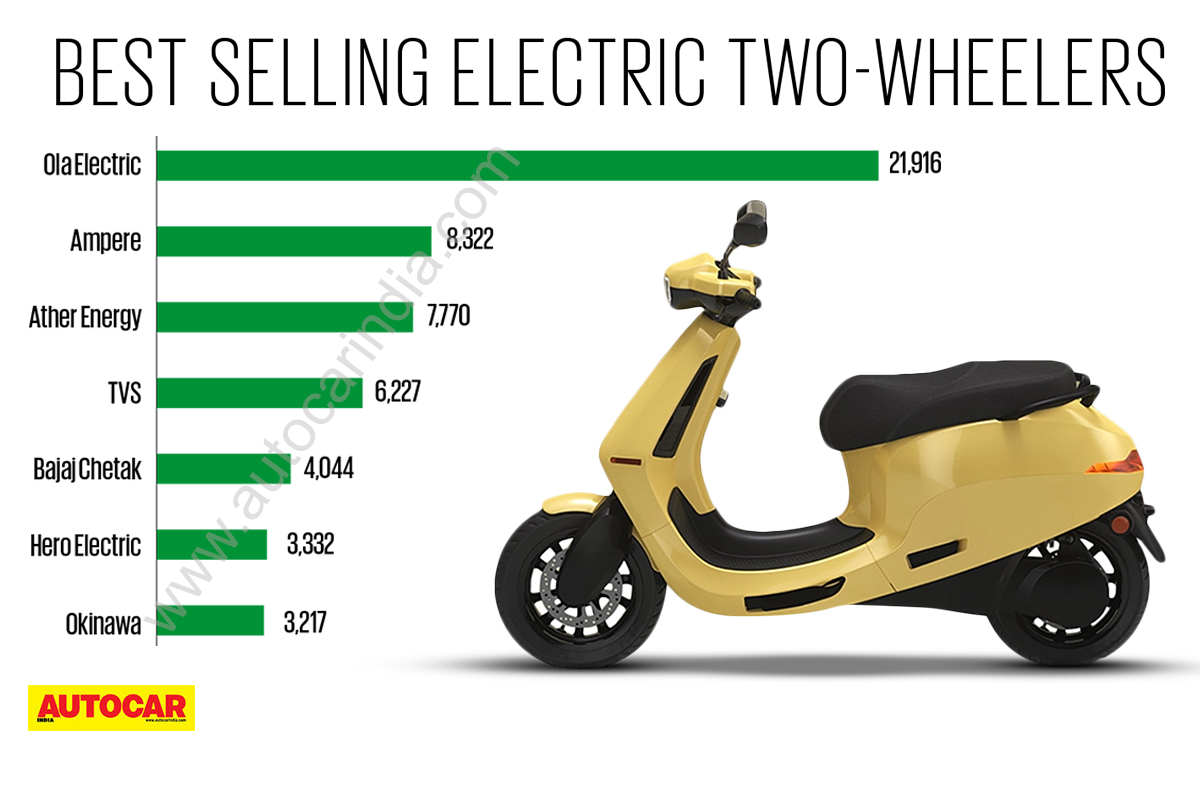 Other companies like Ather and TVS have reported a decline in the same period.
We take a look at how the major players in the electric two-wheeler market have performed in the first month of FY24.
All sales numbers are from the government's VAHAN portal as of May 15, 2023. 
Ola Electric: 21,916 units
Ola continues to lead the market for the eighth straight month, registering 21,916 units in April 2023, which is a small increase over its figure for the previous month. However, the company claims that they've sold over 30,000 units of the S1 e-scooter range, but hasn't given us an exact number. 
Ampere: 8,322 units
Ampere, a subsidiary of Greaves, continues to post consistently better numbers, month-on-month.  in its March 2023 numbers from the 5,000-odd units it sold in February this year. Its new Primus e-scooter is its first truly in-house offering and you can read our review here. 
Ather Energy: 7,770 units
Ather Energy saw a decrease in its April 2023 sales figures, compared to its figure for March 2023. These numbers are from the VAHAN portal and include registrations, and the company claims it's sold 8,182 units in April 2023. 
TVS: 6,227 units
Sales of the TVS iQube have plummeted sharply, when compared to March 2023 sales numbers. The Hosur-based manufacturer claims this is due to certain supply change challenges and is confident of resuming its earlier five-digit sales figures in the coming months. 
Chetak Technology Limited: 4,044 units
Bajaj's EV subsidiary, Chetak Technology Limited, has racked up over 4,000 registrations in April 2023, which is quite a significant increase over its figures for March 2023. The company recently slashed prices, increased the range, and launched a new variant of the Chetak, which has helped in boosting the sales of the Chetak e-scooter. The Chakan-based manufacturer is also in the process of setting up dedicated showrooms for Chetak. 
Hero Electric: 3,332 units
Managing to sell just 3,332 units in April 2023, Hero Electric's numbers have plummeted sharply in the months since the FAME-II subsidy for the company was halted. 
Okinawa Autotech: 3,217 units
Much like Hero Electric, Okinawa Autotech also had its FAME-II subsidy revoked, which has led to a sharp decline in sales. The manufacturer managed just 3,217 registrations in April compared to the 4,508 registrations in March.
Also See:
Ola, Ather, TVS to refund nearly Rs 300 crore to customers