Autocar
Opinion: Should Royal Enfield be worried?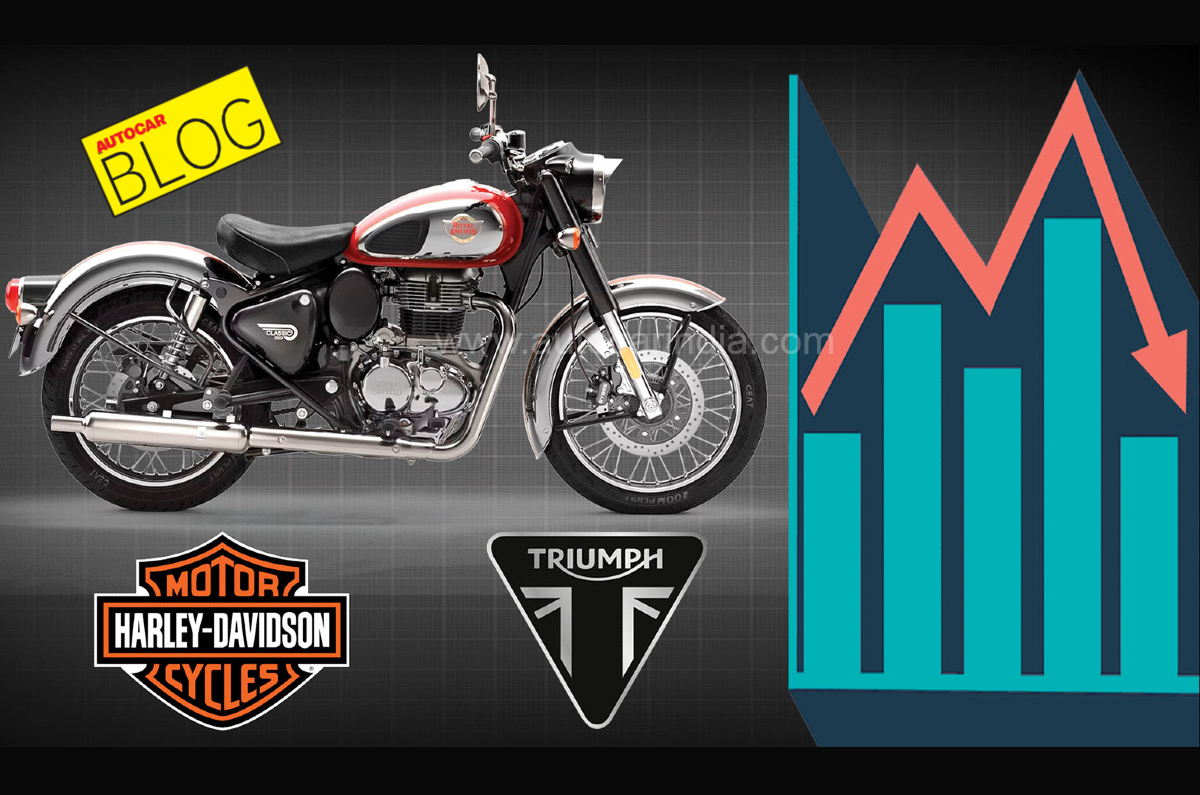 RE will soon face two legit and direct rivals in the form of the locally made Harley and Triumphs.
After numerous ill-fated attempts over the years, it appeared that the mighty Royal Enfield finally had a legitimate rival in 2018. That was when the new-age Jawa motorcycles were unveiled to colossal levels of hype and excitement. Unfortunately, the whole thing fizzled out thanks to huge delays, significant quality concerns and bikes that were impressive on paper, but didn't feel polished or characterful enough to ride. Fast forward four years, and RE still sells well over 50,000 bikes in a bad month where Classic Legends can't even manage a tenth of that in a good one.
The next big challenge came in 2020 in the form of the Honda H'ness CB350. This was probably the closest anyone has come to making RE sweat. Gorgeous CB styling, more features, a competitive price and Honda's legendary engineering. Aside from the silly name, what could possibly go wrong? Well, for starters, the idea to sell it out of the new BigWing dealer network was not a wise one when there were just a few outlets India-wide at the time. Even today, Honda has just over 100 Big Wing dealers whereas there are currently about 2,100 stores across the country where you can buy a Royal Enfield.
For me, one of the H'ness' bigger failings was that Honda went through all that effort to create a low revving, torque-dominated motor and then geared it so tall that you had to downshift way too often to access the performance. Either way, the H'ness currently sells between one and four thousand units a month and it has taken a serious beating from the new Hunter 350 that costs Rs 50,000 less.
As for the upcoming made-in-India Triumph and Harley motorcycles, we don't know enough about them to try and predict how much of a threat they will be. But friends in both companies, whose opinions I respect, tell me that there's a lot to look forward to. However, even if the Triumphs and Harleys are very good (and well-priced), it will take ages for both companies to set up unique dealer networks that can make a significant dent in Royal Enfield's ginormous market share.
Perhaps what RE needs to be worried about is RE itself. Classic 350 sales have stagnated at best despite the brand-new J-platform bike being vastly better. It would seem that a considerable part of the more affordable Hunter's success comes at the Classic's expense. On top of that, most of the upcoming RE bikes that we're all excited about (more 650 twin models as well as the new 450 liquid-cooled platform) are going to be expensive. These will all be well over the Rs 2 lakh mark and sales figures above that point fall off a cliff in India.
If anything, I suspect that the next few years for RE will be about slower growth and trying to maintain stability in India while expanding exponentially overseas. Then again, that's not bad when you think of the amazing margins that export motorcycles command.
Also see: