US Nation
Pro-life activist sounds alarm on FBI 'intimidation' after agents visit home: 'They're going after everybody'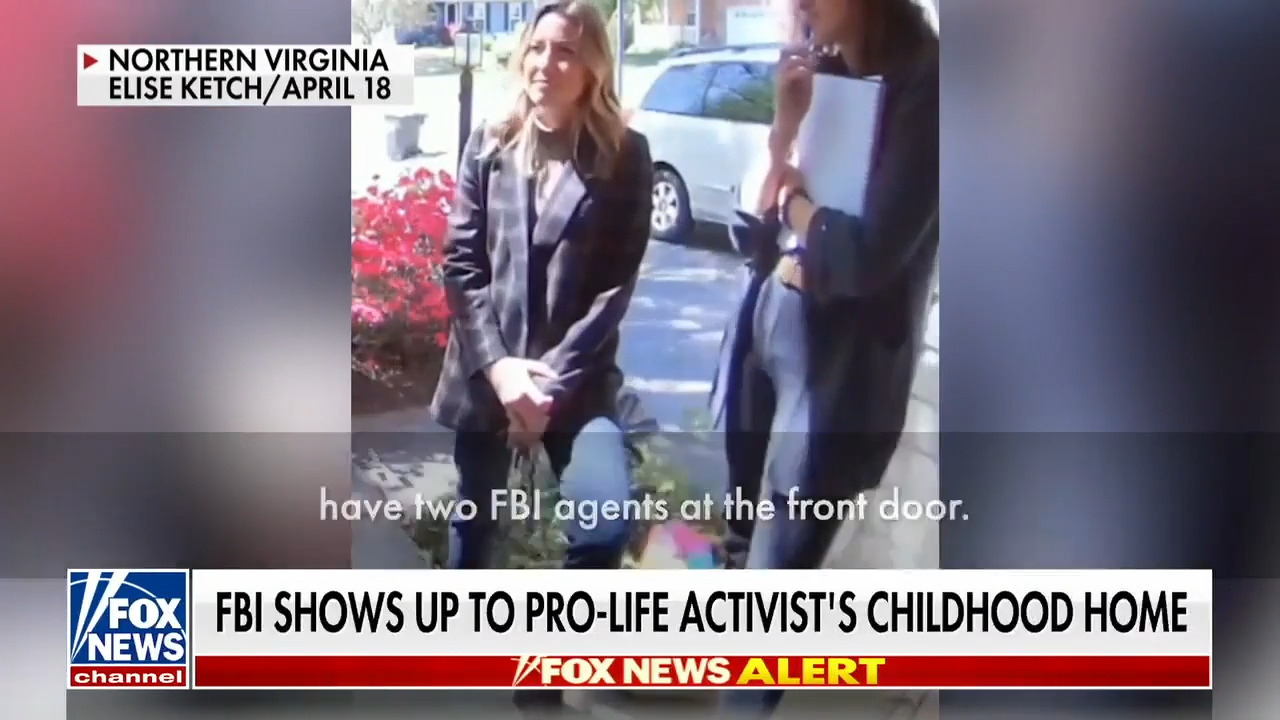 Two FBI agents made a surprise visit to pro-life activist Elise Ketch's childhood home in mid-April, saying she wasn't in any trouble. Though nothing came of the incident, Ketch believes it was an attempt to intimidate and silence her.
A doorbell camera captured the interaction between the agents and Ketch's mother who still resides at her childhood home. The agents claimed they needed to speak with her regarding "some information that was sent in."
The footage resurfaced the day after three whistleblowers testified before House members that the FBI retaliated against them for making "protected disclosures" about what they believed was wrongful conduct.
Ketch spoke out about her experience on "Fox & Friends First" Friday. She said she told the FBI agents to get in touch with her attorney, but she was never contacted again.  
"So I can only take this as an intimidation tactic at this point," Ketch said. 
Her response to the incident was to mobilize her pro-life efforts. 
"Probably the opposite of the reaction they want," she said. "I didn't freeze. I then got more aggressive."
Ketch is part of the Progressive Anti-Abortion Uprising, a grassroots organization that opposes elective abortions while upholding feminist values like equality and non-violence. Ketch said her activism through the organization is legal and within her rights. 
"I'm going to keep doing the same things I was doing," she said, noting that the FBI agents failed to curtail her activism. 
"Even as a progressive, I actually agree with the right on this that the FBI is corrupted and there's always going to be bias against the people who are trying to get human rights, who are trying to do the right thing."
CLICK HERE TO GET THE FOX NEWS ALL
Ketch said she believes these kinds of actions by the FBI will continue until more people step forward and share their stories.
"They're going after everybody," she said. "So I think it's really important we step up and say, The FBI is being weaponized against all of us.'"
The FBI made headlines recently when agents showed up at the home of Twitter Files journalist Matt Taibbi on the same day he was in Washington, D.C. testifying at a House hearing.