Sam Smith are "heartbroken" as the singer has announced to cancel his two more shows because of vocal cord injury.
The singer had to stop a concert in Manchester on Wednesday (24 May) after a brief performance, leaving fans worried.  
Smith has now added to fans worries as he confirmed that his planned gigs in Birmingham and Glasgow – which had already been rearranged because of illness – are also off. Fans have reacted as saying that they are "gutted".
Taking to his Instagram Story on Thursday, Smith shared a message, saying that he was "heartbroken" to cancel his shows, adding that he needed "complete vocal rest".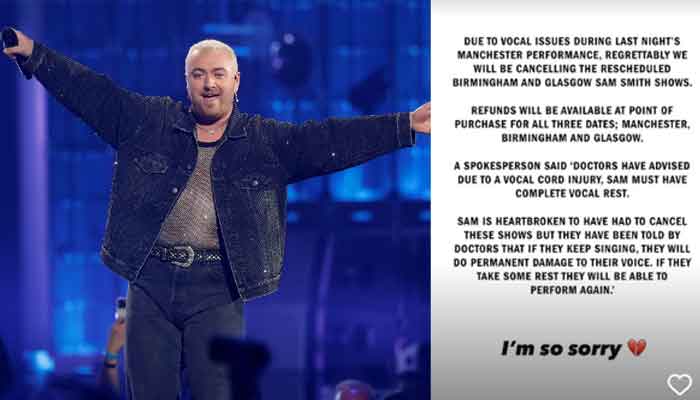 "Doctors have advised due to a vocal cord injury, Sam must have complete vocal rest. Sam is heartbroken to have had to cancel these shows but they have been told by doctors that if they keep singing, they will do permanent damage to their voice," the singer's spokesperson said.
They added: "If they take some rest, they will be able to perform again."
"I'm so sorry" were emblazoned along the bottom of the post with a broken heart emoji.
"Hope Sam Smith is okay but so gutted the show is cancelled tonight," one tweeted.
Another posted: "I think the universe is trying to tell me something about @samsmith. I had tickets for a face to face album signing which got cancelled and now 2 shows have been cancelled too! More upset for my daughter who's a young carer, this was her Christmas present." While, another said: "Sad but hope Sam gets better sooon!"