World
UN Marks First Commemoration Of Palestine's Nakba In 1948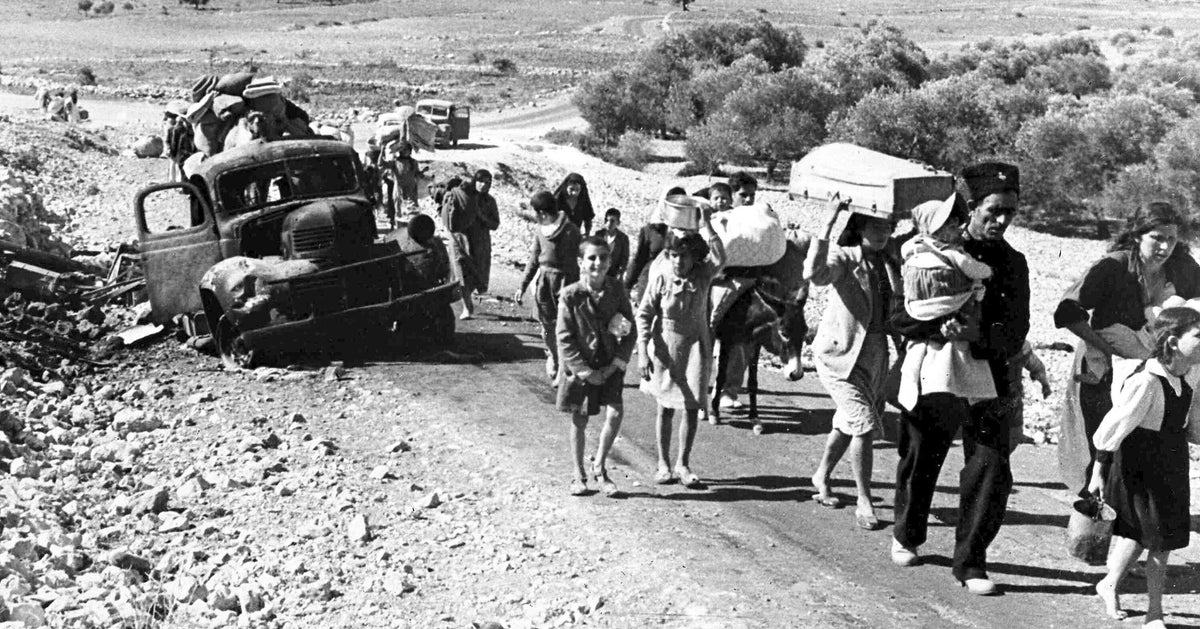 UNITED NATIONS (AP) — Palestinian President Mahmoud Abbas urged the United Nations on Monday to suspend Israel's membership unless it implements resolutions establishing separate Jewish and Arab states and allows the return of Palestinian refugees.
Abbas spoke during the first official U.N. commemoration of the flight of hundreds of thousands of Palestinians from what is now Israel following the U.N.'s partition of British-ruled Palestine into separate Jewish and Arab states 75 years ago.
Israel's U.N. ambassador, Gilad Erdan, had sent letters to General Assembly ambassadors condemning the commemoration and urging them not to attend what he called an "abominable event" and a "blatant attempt to distort history." He said those who attended would be condoning antisemitism and giving a green light to Palestinians "to continue exploiting international organs to promote their libelous narrative."
Israel and the United States were among those that boycotted the commemoration of what is known as the Nakba, or catastrophe.
In an hourlong emotion-charged speech, Abbas asked the world's nations why more than 1,000 resolutions adopted by U.N. bodies regarding the Palestinians had never been implemented. He held up a letter from Israel's foreign minister, Moshe Sharett, after the resolutions were adopted in 1947 and 1948 promising to create a Palestinian state and allow the return of refugees and said: "Either they do fulfill these obligations, or they stop becoming a member."
The General Assembly, which had 57 member nations in 1947, approved the resolution dividing Palestine by a vote of 33-13 with 10 abstentions. The Jewish side accepted the U.N. partition plan and after the British mandate expired in 1948, Israel declared its independence. The Arabs rejected the plan and neighboring Arab countries launched a war against the Jewish state.
The Nakba commemorates the estimated 700,000 Palestinians who fled or were forced from their homes in 1948.
The fate of these refugees and their descendants — estimated at over 5 million across the Middle East — remains a major disputed issue in the Arab-Israeli conflict. Israel rejects demands for a mass return of refugees to long-lost homes, saying it would threaten the country's Jewish character.
The Nakba commemoration comes as Israeli-Palestinian fighting has intensified and protests over Prime Minister Benjamin Netanyahu's right-wing government and its plan to overhaul Israel's judiciary show no sign of abating. Israel's polarization and the Netanyahu government's extremist positions have also sparked growing international concern.
Abbas specifically blamed Britain, as Palestine's ruler before the 1947 partition, and the United States, Israel's most important ally, for the flight of the Palestinians, saying they "bear political and ethical responsibility" for evicting Palestinians and implanting Israel "in our historic homeland."
"And Israel would not have continued its hostility and aggression without the support it receives from these two countries," he said.
Abbas strongly criticized Israel for calling itself the only democracy in the Middle East, saying "it is the only state in the world that occupies another people." And he rejected Israel's insistence that it "made the desert bloom," saying Palestine pre-1947 was "very civilized," green, with lakes and rivers, and exported oranges to Europe.
The Palestinian leader said the most important right Palestinians are demanding now is self-determination and an independent state based on June 1967 borders. He reiterated that the Palestinians have agreed to accept 22% of the 1947 territory as part of a two-state solution to the decades-old Israeli-Palestinian conflict, not the 44% they were given in the partition.
But he said the two-state solution is being destroyed, pointing to Israeli ministers "publicly calling for another nakba against the Palestinians" and Israelis calling for the killing of Palestinians, insisting defiantly that the Palestinians will never leave or give up East Jerusalem, which they want as their capital.
Abbas said Palestinians are not against Jews, but "I am against those who occupy our land." He was born in Safed in the Galilee, now part of Israel, and said like other Palestinian refugees he wants to go home.
He said Israel should recognize and apologize for the Nakba, which has created the world's longest refugee crisis, and pay compensation to the refugees and for land it now occupies. And he said that if these root causes are not addressed, the Palestinians will continue to pursue its rights and take legal action, especially at the International Criminal Court, which was greeted by loud applause from the large audience in a U.N. conference room.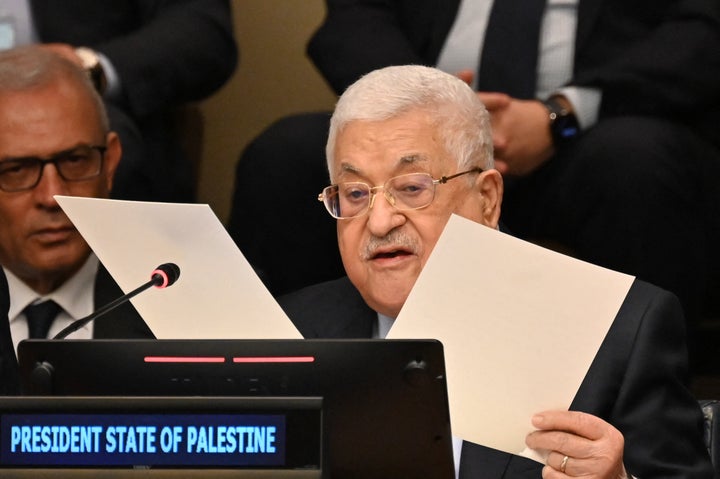 Israel has remained defiant.
"We will fight the 'Nakba' lie with full strength and we won't allow the Palestinians to continue to spread lies and distort history," Foreign Minister Eli Cohen said in a statement.
As the 75th anniversary approached, the now 193-member General Assembly approved a resolution last Nov. 30 by a vote of 90-30 with 47 abstentions requesting the U.N. Committee on the Exercise of the Inalienable Rights of the Palestinian People to organize a high-level event on May 15 to commemorate the Nakba. The United States was among the countries that joined Israel in voting against the resolution.
Abbas called for the General Assembly to establish May 15 every year as an international day "to commemorate the Palestinian plight" and to call for Palestinians achieving their rights to an independent state.
Israel's foreign ministry said dozens of countries canceled or downgraded their participation in Monday's event in response to an Israeli campaign. But among the many groups supporting the Nakba commemoration and an independent Palestinian state whose representatives spoke on Monday were the Group of 77, a U.N. coalition of 134 mainly developing nations and China, and the 120-member Nonaligned Movement.
Speaking at the commemoration, U.N. political chief Rosemary DiCarlo expressed "deep concern" that prospects for restarting negotiations toward a two-state solution "continue to diminish."
DiCarlo pointed to the rapid expansion of Israeli settlements, which is "illegal under international law," pervasive violence including by Israeli settlers, and Israel's "unabated" evictions, demolitions and seizures of Palestinian-owned property.
She also cited the record number of Palestinian civilians killed last year since the U.N. started recording deaths in 2005, and the highest number of Israeli civilians killed since 2015, warning that this year is on track to match or surpass those numbers.
"Palestinians deserve a life of justice and dignity and the realization of their right to self-determination and independence," the undersecretary-general for political affairs said. "The U.N. position is clear. The occupation must end."
In a speech to the U.N. Security Council on April 25, Palestinian Foreign Minister Riyad Malki renewed his call for countries that haven't yet recognized the state of Palestine "to do so as a means to salvage the moribund two-state solution."
To hurt Israel economically, Malki urged countries to ban products from Israeli settlements and trade with settlements, to "sanction those who collect funds for settlements and those who advocate for them and those who advance them," and to list settler organizations that carry out killings and burnings as "terrorist organizations."
And he urged the international community to take Israel to the International Court of Justice, the U.N.'s highest tribunal. The General Assembly asked the court in December to give its opinion on the legal consequences of Israel's occupation of Palestinian territories, a move denounced by Israel.
Ilon Ben Zion contributed from Jerusalem.