In a year where a visually and conceptually audacious science-fiction film won best picture, why was the menswear at the Oscars so drab?
After a few years of boundary-pushing styles, 2023 on the red (sorry, champagne) carpet felt like a return to the basics. The tastefulness was near overwhelming. The drips and drabs of color that were on display — Dwayne Johnson's double-breasted salmon tuxedo jacket from Dolce & Gabbana, Riz Ahmed's pop of Prada pink on his ever-expanded collar — felt like either miscalculations or half-measures. Black tie, with an emphasis on "black." That was the assignment at this year's Academy Awards. Even fashion-forward icons like Michael B. Jordan were playing it straight down the middle. If the Oscars are a bellwether of where fashion is going, all the signals Sunday night said that less is more.
Red carpets usually signal the oncoming mainstreaming of a particular style. Oddly, the trend that seemed to have overtaken men's fashion — the wide-legged trouser flirting with bell-bottom status — was almost nowhere to be found. Save for Paul Mescal (in louche Gucci, no less), the big pant wave that has dominated pants was conspicuously absent. One can accuse Pedro Pascal, with his obscenely sloppy break that seemed almost unhemmed, of attempting to make a statement with his pants. But was that statement "don't go to a tailor"? Perhaps we will never know. If Austin Butler, who often made the press rounds in '70s-inspired Gucci, could settle for Saint Laurent's slim cuts, maybe we have finally reached the end of the era of big pants.
It's hard to know for sure. But as gender-fluid fits continue to dominate Hollywood, our trousers were giving Diane Keaton realness on the regular. Wide-leg pants and outrageously long breaks at the ankle were a staple at the Grammys and the Emmys. Last year's Oscars may have been the apex of the movement, thanks to the Tim Chalamets and Donald Glovers of the world. Glover wore a roomy, yellow King & Tuckfield wrap shirt with matching trousers. King and Tuckfield's site touts that their hyper-modern style is "inspired by the 1950s," which is not as outrageous as it sounds at first.
EBay is loaded up with "1950s style" pants with two generous pleats, wide legs and high waists. Brands like Bill Blass and Brioni dressed the male stars of the era in trousers that rested around the belly button, with hem widths that typically came in at nine and a half inches. The modern American thought around high waists and wide hems is that it could make someone look heavier. If you are like me and have some extra room in the midsection, hiking your pants up might feel like a major risk for buttons flying off your person, but a '50s style trouser can actually elongate a body and make you look more svelte. Maybe not as svelte as Eddie Redmayne, but that's what we call an "unrealistic body image" in the business these days.
Redmayne was 2023's king of big pants on the red carpet. He blew the doors off the BAFTAs with an Alexander McQueen jumpsuit that would not have been possible without the contributions of LaKeith Stanfield's Saint Laurent fit from the 2021 Oscars. Redmayne's most memorable look of the year still might be his own Saint Laurent getup from the SAG Awards — what one might typically call a woman's blouse with a face-consuming bow on top and another set of wide-leg trousers. This is pretty far one way on the sartorial spectrum and Redmayne now has a reputation as one of the most audacious dressers on the carpet. Someone should come up with a pithy name for the guys always trying to one-up each other at awards shows — Chalamet, Redmayne, Glover, Harry Styles, Chris Pine. The Cravat Pack? I don't know, I'm doing my best!
Those names were all but absent from this year's Oscars broadcast. Perhaps that's why everything seemed so drab, so clean, so "chic." The insatiable need for fantasy fits that break the internet with their outrageousness might have finally worn off and our most fashionable icons could be turning the corner toward real clothes. The brilliant Harper's Bazaar writer Rachel Tashjian said during this year's New York Fashion Week: "The wardrobe is back." Maybe the only one to push his look toward exaggerated costume was Jonathan Majors, clad in a waistcoat and high-water pants that made him look a bit like Professor Moriarty from the Sherlock Holmes stories. (He said Frederick Douglass inspired the style.) Fortunately, he brought his coffee mug.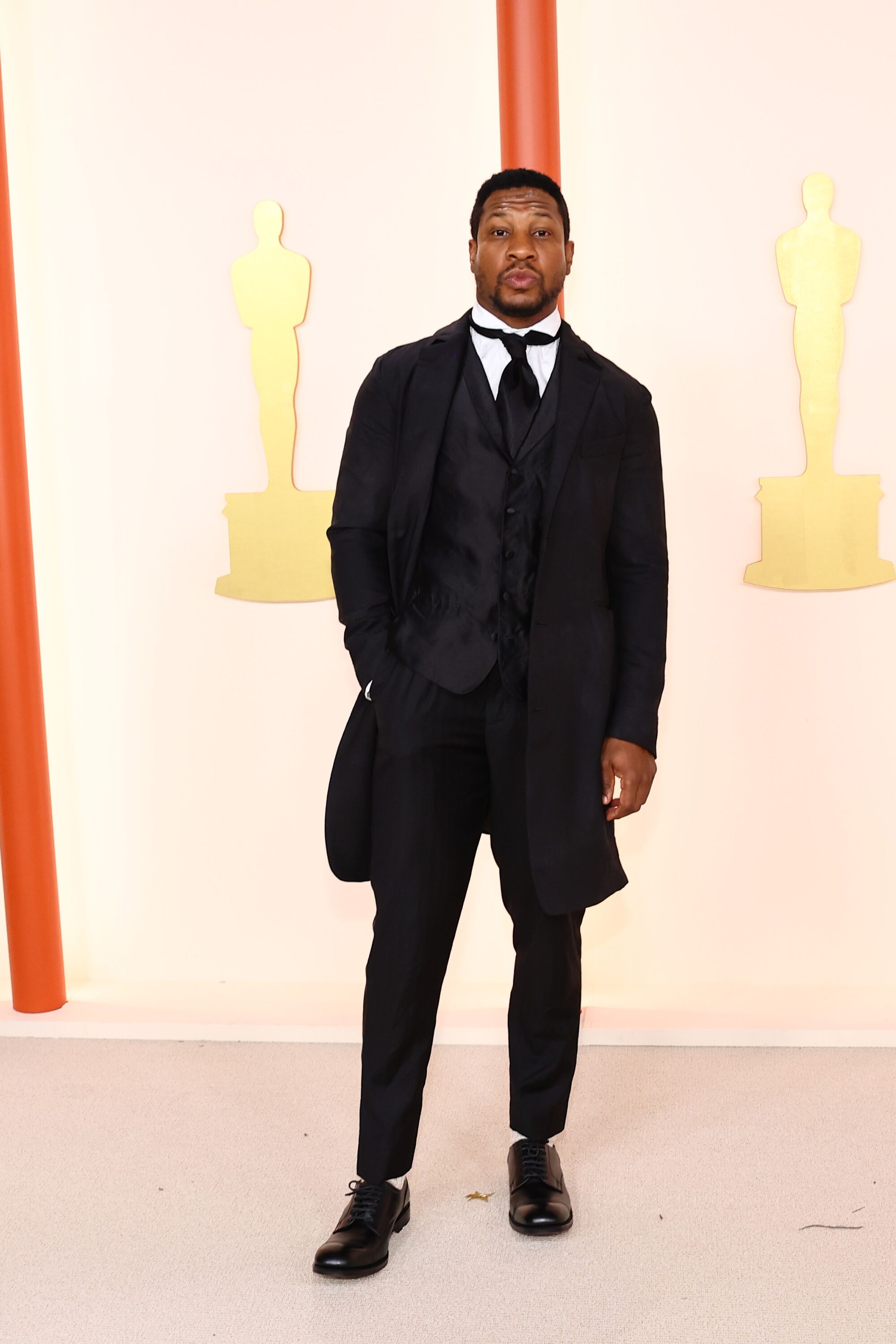 But the great surprise of the night was Butler, who seemed primed for a lead actor win, but came up short. For most of the awards season, he wore the more approachable version of this in head-to-toe Gucci. Those pants are about width, but also about length. The breaks on trousers had been creeping closer and closer to the floor. Every other pair of pants I saw at the most recent Grammy Awards seemed in danger of being ruined by the backs of the pants getting dragged on the concrete. Harry Styles, the band Maneskin, and even legendary producer Nile Rodgers were harkening back to the bell-bottom look popularized in the 1970s. Surely, these pants have been hemmed to perfection and no damage will come to them, but watching human beings traipsing around the outside world in long pants makes me feel like I'm watching the tightrope act from the movie "Man on Wire." I instantly want to puke.
The most notable menswear at this year's Oscars was Armani, which once again hosted a pre-Oscar party at its Rodeo Drive flagship store. This year, the event celebrated the nomination (and eventual win) of Michelle Yeoh. Armani is so pure and clean, so tasteful and sumptuous. It is tailoring made not to be retweeted but to be worn. At the event, the pleats and roomy waists that we have all grown to love were there. At the ceremony, though, Armani represented itself in the attire of lead actor winner Brendan Fraser, supporting actor Ke Huy Quan, Yeoh and others. The kind of modern Hollywood glamour that Armani almost invented was dominant. This was without question the Armani Oscars. It caught the moment and set the tone. As the age of Gucci's outré fluidity seems to wind down, we at least know we're in good hands with Giorgio.
Still, the moment of big pants is not totally gone. It would be a bit brazen to declare it completely dead. Just on a bit of a hiatus. Men will continue exploring silhouettes that challenge norms. Of course, the more men play with these silhouettes, the more we need to pay homage to where this all started — womenswear. It should be no shock that the most exciting suit at this year's Oscars was from adapted screenplay winner Sarah Polley, with her frilly, Austin Powers-esque shirt. The women found a way to squeeze more life out of the red carpet — Nicole Kidman's witchy dress from (of course) Armani Prive, Hong Chau's pink mandarin collar Prada number, and Rihanna's pregnancy chic leather Alaia dress that looked like it was shredded up by Wolverine. Womenswear remains far and away the star of the show, but there remains hope of that chasm shrinking.
The distinctions between male and female tailoring are slowly but surely fading away. At least they are in show business. They certainly are on screen. 2023 gave us Lydia Tar's instantly iconic "resting rich face" look — thanks to brands playing with unisex garments like Lemaire, Studio Nicholson and the Row. You might have despised her character, but Cate Blanchett sent thousands of people on a mad scramble to uncover the perfect, most affordable wide-leg trouser. The costuming of "Tár" had to communicate very quickly that the titular character was wealthy, impenetrable and deeply concerned with her meticulously cultivated image.
The pants in the pivotal Juilliard scene offer up a considered bohemian casualness that nods to Keaton's Annie Hall, but on Tár, they become blunt, muted and drab. Where Annie Hall was whimsical and playing with masculinity, Tár's outfit is the sartorial equivalent of Brutalist architecture in the character's home city of Berlin. It's meant to look impenetrable, and the film's aim is to burrow to the sour core that Tár has been hiding for decades.
The whimsy we came to expect at the Oscars the last decade was bound to give way to a revival of "taste." Where award shows like the Grammys invite more and more aesthetic variations, the Oscars seem to be trending toward whatever the wealthy Hollywood version of austerity is. "Everything Everywhere All at Once's" director duo, Daniels, made their color-coordinated outfits a statement harkening back to pivotal moments in their award-winning film. It was apropos that they gave us some of the most playful style moments of the night. Their film made all of us reconsider what an Oscar-worthy film could be. It could be audacious, dense, action-packed and more than a little peculiar. It reminded audiences that movies are a conduit to the unfamiliar, the personal or the painful. Shouldn't our clothes do the same thing?