US Nation
Why do men dominate on 'Jeopardy!'?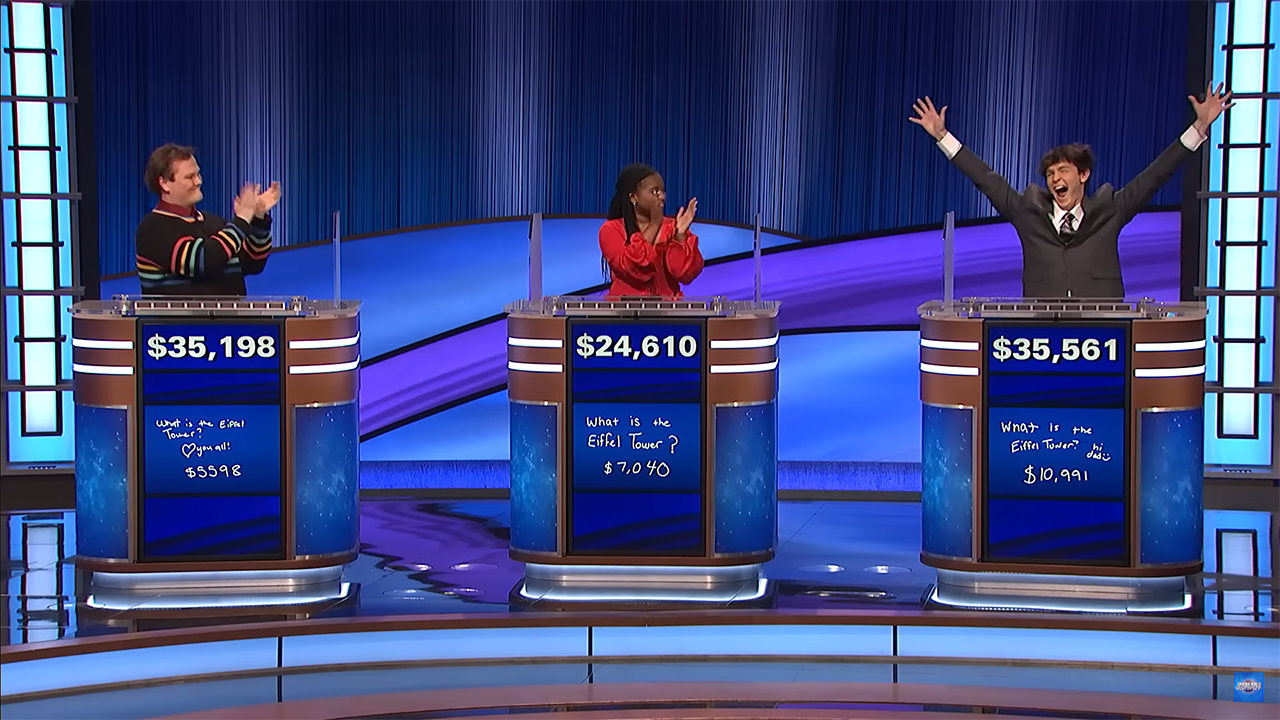 My husband and I watch "Jeopardy!" together frequently. I've noticed that the strongest players are almost always men. 
Last week, the show hosted its Masters Tournament, and, consistent with my observation, four of the six "masters" are male. Interestingly, even the "winningest woman" on "Jeopardy!", one of the masters, is Amy Schneider, who identifies as transgender. The sixth master contestant is a woman, Mattea Roach, of Canada. 
Working at Independent Women's Voice, I've spent the better part of this spring working in state legislatures to promote and advance bills that preserve women as a legal category and keep women's sports female-only. In the world of sports, women only have equal opportunity to compete fairly and safely if they are competing against other women only, because men have an athletic advantage.
This got me thinking about "Jeopardy!" and other trivia competitions: do men have an advantage in these competitions as well (albeit less obvious to the eye of the observer)? I admit, I am loath to even explore the idea that men are "smarter" than women… especially since my main opponent for armchair "Jeopardy!" is… my husband. And there's no way he's smarter than me! 
'JEOPARDY!' HOST KEN JENNINGS SLAMMED BY 'BIG BANG THEORY' STAR FOR CROSSING THE PICKET LINE
But I had to find out why men are more successful on "Jeopardy!".
Of course, there's always the chance that the game itself is rigged. Some critics say that the way the questions are written favors men, or at least focuses on men. Sometimes I think my husband has an advantage when there's a sports category on the board, and there often is. Some viewers alternatively speculate that the game is rigged to help female contestants or at least to prolong champions' runs. 
So, biased question-writing aside, what else could be behind men's dominance (compared to women) as contestants on the show?
Several academic studies have shown that men wager more aggressively on the Daily Double questions, particularly against other male contestants. When wagering is involved, men may have an advantage due to their higher tolerance for risk. This also has implications for other areas of life, like financial investment.
'JEOPARDY!' FANS LIVID AFTER LATEST GAME SHOW MISTAKE
Some argue that men's higher risk tolerance isn't innate; it's socialized. For example, some evidence suggests that parents are more cautious with their little girls, telling them more often to "be careful" on the fireman's pole, monkey bars, or elsewhere. (I haven't found this to be true in my personal experience: my son more often puts himself into risky situations where I must tell him to be careful, so I think of all my children, I urge caution to him the most.) 
It's possible that (relative) risk aversion in women is not something that's simply learned, but that biology may contribute as well. Scientists have studied how brain waves may work differently in male and female brains to affect their attitudes toward risk. And hormones such as testosterone (which men have at seven-eight times higher levels than women) may also play a role in men's tolerance – or even appetite for – greater risk. 
But I have yet another hypothesis about "Jeopardy!" that applies to other areas where there's gender disparity: if you take maybe half of women aged 20-40 and deprive them of regular sleep, and require them to carry a new mental load related to feeding schedules, potty training, and child care for a few years, those women have a disadvantage when it comes to cognitive ability (specifically gray matter and verbal recall), at least for a time. Verbal recall is especially important for "Jeopardy!". But critically, motherhood changes the brain in other ways that are beneficial for both mothers and children, and for the future of humankind. It's not all bad! 
As we've witnessed with the gender wage gap, the major driver isn't sexism, but motherhood. One reason we see fewer women excelling on "Jeopardy!", is, I believe, the same reason we see fewer women, on average, in many fields, from the halls of Congress to STEM jobs and more. 
CLICK HERE TO GET THE OPINION NEWSLETTER
What's the "solution" then, for "Jeopardy!"? A female-only league (as in sports)? A mentorship program? Affirmative action for female contestants? No. We simply need to get comfortable with a lack of gender parity in some areas, not always reflexively labeling it as a "bad thing" and certainly not assuming that it suggests anything about the merits of one sex over another.
I'm pretty comfortable with sex differences, and pretty comfortable yelling answers – in the form of a question, of course – from my couch next to my husband. But who knows, maybe one day I'll audition for the show. You know, when the kids are a little bit older.