Autocar
BMW iX1 2023 long-term test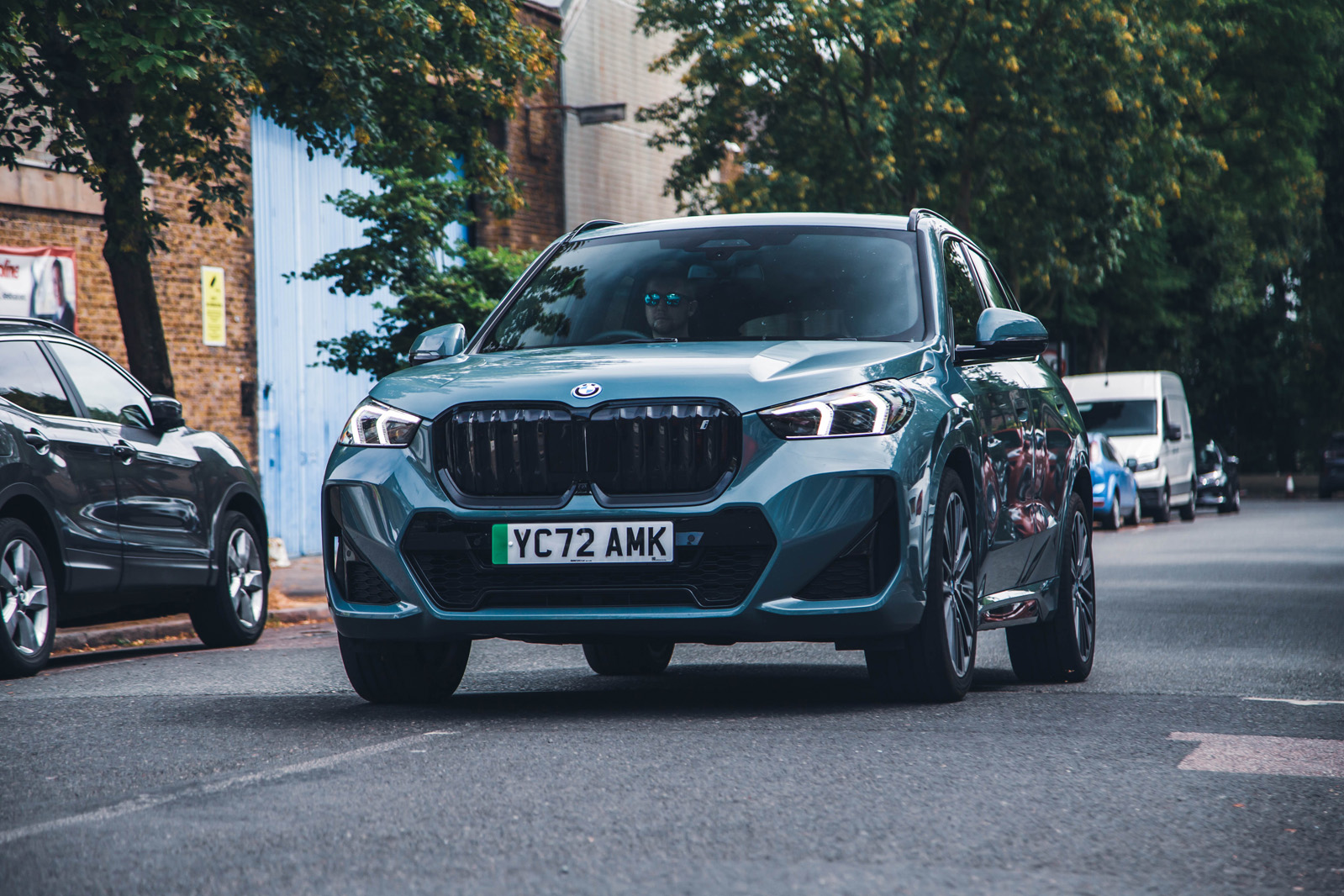 Munich's smallest electric model finds itself a place on the Autocar fleet
Why we're running it: To see if BMW's entry EV is as impressive as its range-topper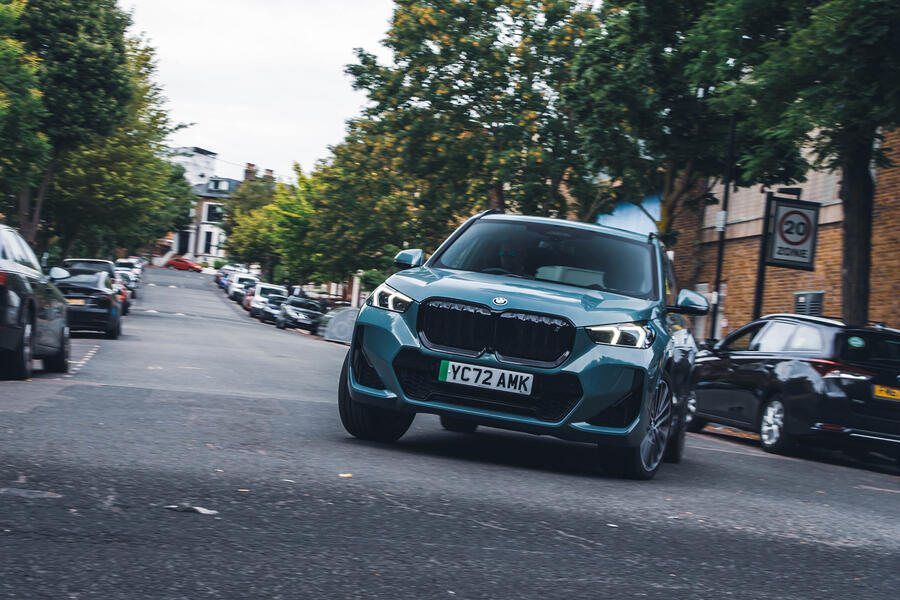 Life with a BWM iX1: Month 5
The iX1 is consistently inconsistent – 13 November 
I've had two wildly different range predictions in just 48 hours from my electric X1. On the first day it showed 252 miles, which was the highest I had ever seen, and then the next day it showed 192 miles. Both figures were when charging to 100% on the same charger and in similar ambient temperatures and weather conditions. It's inconsistent, to say the least. 
Mileage: 8139
Max charging speeds achieved – better late than never… – 1 November
Six months into my long-term test, the electric X1 has finally managed to (nearly) hit its maximum charging rate, achieving 125kW out of 135kW on a Gridserve charger. That almost cemented Gridserve as my go-to provider – until the BMW app said the unit had suffered an error, meaning I lost my receipt and charging stopped before the battery was fully topped up. One step forward… 
Mileage: 7912
Life with a BMW iX1: Month 4
It has impressed in isolation, but what about when compared with its peers? – 25 October
Every year, the Society of Motor Manufacturers and Traders holds a regional drive day so hacks like us can test the latest metal on sale in the UK. I took the opportunity this year to clue myself up on some of my BMW iX1's biggest rivals, and I was surprised at some of my findings.
First up was the Toyota bZ4X, which was priced slightly below the iX1 but similar in size. While it was eye-catching and a decent EV in its own right, with a longer range per charge (317 miles plays 272 miles), it couldn't match the BMW for comfort, performance or premium interior materials.
The Nissan Ariya seemed more up the iX1's street. Its more upmarket interior was closer to the BMW's standard and the Japanese trounced the German for range, with an official 322 miles. Despite its nicely refined and punchy powertrain, however, I concluded that it still wasn't quite as enthralling.
Then came the Genesis GV60, in top-rung Sport Plus trim. At £67,505, it was more expensive than the iX1 but far more of a like-for-like than the other rivals. The claimed range was 289 miles, but our testing returned 220 miles – almost the same as I'm getting in the iX1. The interior was also on a par with the BMW, if not a touch better, filled with modern technology, leather and plush fabrics.
Yet when I hopped back into the iX1 afterwards, I immediately felt more at home (who said familiarity breeds contempt?). I've already said how nice an environment this car is, and that feeling hasn't worn off even a little bit after all this time. In fact, I'd say I've yet to sit in an EV whose interior I've liked more.
The 10.25in digital dial display is clear and customised exactly to my liking, and I often don't need to even go near the 10.7in central screen. When I'm not using Apple CarPlay, the integrated Spotify app is brilliant and lets me access my music in a few taps.
The iX1's head-up display, meanwhile, is the first one I haven't felt compelled to turn off. I use it to change radio stations or music, and for my in-car monitoring systems.
Quite unexpectedly, then (well, this is a compact SUV), I appear to have formed a bit of an attachment. 
Love it 
Spotify
Issues with my iPhone have limited my use of Apple CarPlay, but using the in-built Spotify integration has been seamless 
Loathe it
Automatic boot sensor
The foot-operated boot mechanism often cancels when it's half-opened, forcing me to step in, thus rendering it pointless. 
Mileage: 7401
Plenty of space in the back for furry friends – 18 October
Two weeks of dog-sitting means two weeks of dog walking, and what better way to truly test a car's boot? Our dog, 13-year-old Coco, wasn't entirely at home in the iX1. The boot lip is around 70cm high – too high for her to jump at her age. Larger dogs will also struggle for space. She's a small labrador, and her head was almost touching the ceiling.
Mileage: 7171
Is our zero-emissions premium compact SUV the king of the 20mph zone? – 4 October
Predictably, the Welsh government's recent decision to roll out a blanket 20mph speed it on all urban roads was not met with a great deal of visible enthusiasm by the motoring masses.
I'll confess to initially harbouring a degree of resentment towards the ruling, which seems somewhat excessive in light of the increasing influence of advanced driver assistance systems and the general structural safety of a modern car – but after a few days of city trundling in the BMW iX1, I've come to appreciate life in the slow lane.
As a long-time resident of snarled-up suburban London, I've developed a featherweight right foot and become all too familiar with achieving the same average speed on my commute as, say, a middling jogger. Some cars (like the Audi TT RS I'm running at the moment) simply aren't worth subjecting to this torture, with snug- fit sports seats, inefficient engines and highly sprung chassis set-ups only exacerbating the frustrations of stop-start driving over roughly surfaced roads, littered with speed bumps and gaping potholes.
The iX1 is a breath of fresh air, by contrast. It's not just comfortable and composed around town 'for an EV', but feels equally as adept at rounding out imperfections as any similarly sized combustion crossover.
It rolls quietly and smoothly over Hounslow council's most jagged speed bumps, never lapsing into the teeth-gritting crashiness I've experienced with some other electric cars, and it remains whisper-quiet even when pushed beyond the heady realms of 30mph.
Even in tighter, twistier environments like car parks and side streets, I've found the iX1 eminently manoeuvrable and confidence-inspiring, courtesy of intuitive driver aids and excellent visibility at all four corners – although the 11.9m turning circle is pretty unimpressive and makes shuffling into the tight spaces of the Autocar car park a bit of a challenge.
Plus, maintaining a more sedate pace works wonders for the efficiency of an electric car. My experience suggests the iX1's official 260-mile range is well within reach if you stay within the confines of the North/South Circular.
It's worth noting, though, that I would have been significantly aided in this endeavour by the unseasonably warm temperatures we 'enjoyed' in early September. I expect the iX1's full-time keeper, Jack Warrick, will start moaning a bit more about range anxiety as autumn takes hold.
There is an uncomfortable truth to acknowledge here, though: for all the iX1's city-slicking strengths – and despite its positioning as BMW's smallest SUV – it remains a fairly sizeable beast, occupying very nearly twice as much road as a Smart Fortwo, for example.
Even with no nasty carbons spewing out of the rear end, it still feels unnecessarily large for one- or two-up trips to the office, station or supermarket. That's jarring, because the iX1 doesn't quite have the real-world range to claim any genuine long-distance credentials and it doesn't charge especially quickly, so it's theoretically much happier operating over short distances in built-up environments, where cars of its ilk are increasingly frowned upon – irrespective of their means of propulsion.
As I write this, though, I'm watching a lairy AMG G63 with 4D numberplates, a custom exhaust and a suspension lift kit cautiously edge its way down a busy high street in Zone 5, which makes our BMW seem like a Peel P50 by comparison.
The perfect city car, then? Perception is nine-tenths of reality, so they say, and from where I'm sitting, the iX1 isn't a half-bad London companion.
Love it
Switchgear
Everything is as intuitively placed and satisfying to prod as you would expect of a BMW. My kingdom for a rotary infotainment dial, though 
Wireless charger
Vertically oriented pad makes your phone distractingly visible on the move and the flip-up retainer bar gives up under heavy acceleration. 
Mileage: 6769
Life with a BMW iX1: Month 3
Public charging isn't exactly cheap… 12 September
Another day, another charge. This time, I was promised a healthy 250 miles on a full battery, which isn't far off the 270 miles advertised by BMW. On the other side of the coin, charging rates continue to disappoint. Every rapid charger I've ever used has maxed out at around 75kW and so I've never witnessed the iX1's official fastest charging rate of 135kW. 
Mileage: 6533
The iX1's control panel is brilliantly laid out – 6 September
The iX1's central control panel may, at first sight, look muddled, but everything is positioned logically for the driver – particularly the music controls on the right and the handy switch to activate the car's external camera system. One complaint is the size of the drive selector. It's a bit small for my hands, and they often slip off of it or accidentally activate reverse. 
Mileage: 6223
Life with a BMW iX1: Month 2
CarPlay cold turkey reveals iDrive's hidden talents – 29 August
Several months with the iX1 have highlighted my reliance on its Apple CarPlay functionality.
Given that connectivity in the iX1 is wireless, using CarPlay is so easy: I just get in the car, drive off and have all my music, navigation information and more in front of me without having to think about it. It also pairs seamlessly with the wireless charging pad in our car.
Because of my, erm, dependency, I decided to avoid using CarPlay for a while, and just a few days in I started to notice standard features of the iX1 I've been missing out on.
A big one comes from using the iX1's in-built sat-nav over Google Maps or Waze via my phone. Entering your destination is nice and easy, and while it's not the smoothest system to scroll around, the map is clear, with a view that can be customised to your liking. It's also easy enough to toggle between light and dark modes with a few quick clicks.
A standout feature of the system is how it uses its 360deg cameras. When you're approaching a turn-off or a junction, a clear visualisation of the road ahead will pop up on screen indicating which direction you need to turn off, with the help of some fancy graphics.
At first I didn't really see the point of it and thought it was actually quite distracting (a mindset I feel several drivers might concur with), but it has helped me a few times when I've found myself confused about which lane to take on a stretch of motorway.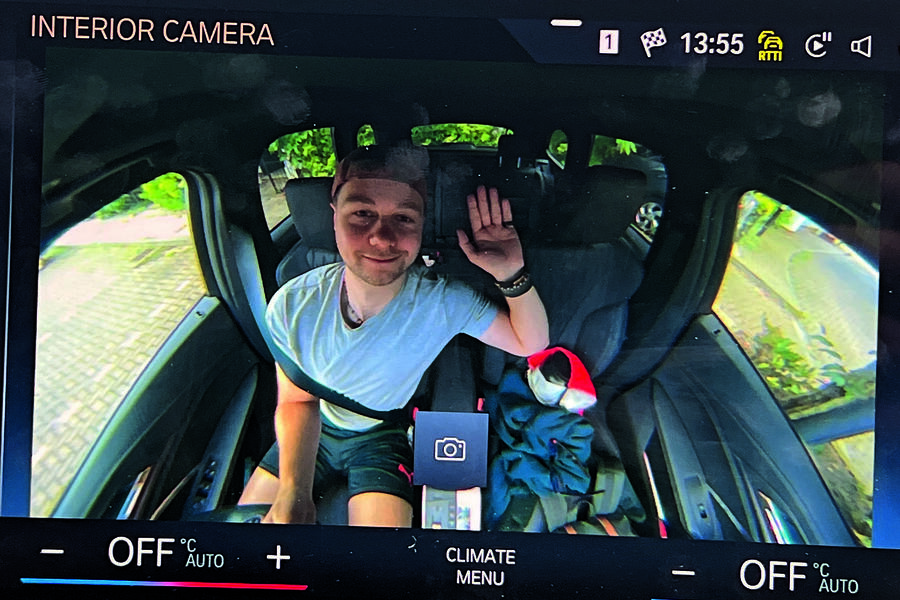 The cameras are useful around town, too. If you're in a tight spot, you can press the camera button on the centre console to bring up a full view of the front, side and rear of the car. You can use this camera up to speeds of around 20mph, which is ideal for my regular driving in and around London.
There is also a camera mounted just in front and above the head of the driver and, yes, you guessed it, there's a 'Selfie' mode. I've used this a few times, much to the surprise of my passengers in the car, but I can't see many instances where this would be of any real practical use, apart from security as a cab driver.
Understandably it can only be used when stationary, and the pictures look a bit funny because of the height of the camera. Still, it's a good bit of pretty harmless fun, some might think.
The rest of the iDrive system is becoming easier to navigate. Voice control is, as ever, patchy, but it's packed with features that become easily accessible with just a few screen presses. It's simple to find the nearest charging point, and if you're dead set against mobile connectivity, Spotify is actually integrated into the iDrive system.
The day's weather is also nicely presented (and mostly accurate), and the DAB radio is clear and informative.
I've also had a few over-the-air updates (mostly focused on system stability), which were very easy and stress-free to install. I was able to install one update during a quick shopping trip, drive off in less than 20 minutes and view an entire log of the changes made as a result of the update.
There really is a lot to like about this latest generation of iDrive, and it helps to make the car a truly nice place to be. If you're after an electric car with high-quality infotainment, I don't think you'd be all that disappointed with the iX1. It's certainly far ahead of rival models from the likes of Volkswagen and Skoda, from my experiences so far. 
Love it 
Going green
I wasn't a fan of Cape York Green to start with, but it's grown on me. It's often the first thing people compliment about the car. 
Loathe it
Another gimmick
It's all fun and games, but I'm sure many people will see Selfie mode as yet more unnecessary tech. 
Mileage: 6114
Enjoying the serenity and pushing the limits of our iX1's range – 23 August
On my last report, I mentioned that I had switched off the iX1's adaptive system, because it was inconsistent, uncomfortable to use and made me overly conscious of other road users around me.
Frankly, it's easily the best decision I've made since taking ownership of this electric SUV. The iX1 is now so much nicer to drive, and it has made me think about how one small change can turn a maligned driving experience into a genuinely pleasant one. I'm now far more relaxed when driving just about anywhere, be it through the crowded streets of Camden or the nastiness of the North Circular.
While I do think it's a shame that I've had to turn off one of the model's flagship features, doing so has allowed me to stop being continually distracted and take in the rest of the car and all of the other positives that it has to offer. 
A standout feature for me is the serene quietness of the iX1's cabin. Unless you have the Hans Zimmer-composed Iconic Sounds profiles activated, it's remarkably hushed, with minimal road and wind noise. This makes my regular trips down the M4 truly tranquil occasions and means I can hear every word during my long podcast-listening sessions.
When I'm in the mood for something a bit louder, the Harman Kardon audio system reproduces my music like few other car stereos I've come across. The iX1's sound isolation helps here, too, because I can be driving around late at night and not have to worry about my music upsetting the neighbours.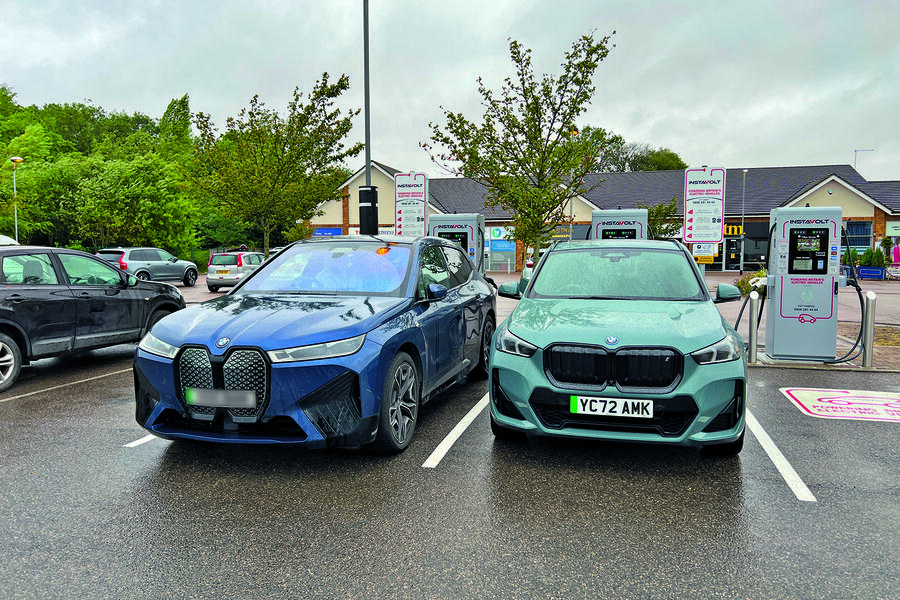 The calmness of the cabin has surely helped with range anxiety, I think. During a recent trip to drive the newly facelifted Volkswagen ID 3, in Corby of all places, I was left with a dilemma: charge before I leave and make it back to north London with plenty of range for my batteries or chance the 88-mile trip back with just 94 miles of range.
My worry was that EVs' range figures can often be deceiving, but after a tiring day, I chanced it, which meant switching almost every feature off. Even as the number tumbled, I never felt like I was going to be left stranded, and eventually, after some feather-footed driving, I made it back home with some 14 miles left.
The next day, I went to charge and on the way experienced low-power mode for the first time when the car's range dropped below 10 miles. This mode not only reduces the amount of power you can put onto the road but also shuts off some other features. The air-con was first to go, followed by that premium stereo.
While your audio will continue to play, it comes from a speaker that sounds like it was taken out of a real old banger. It made me wonder how much power the system actually used in the first place.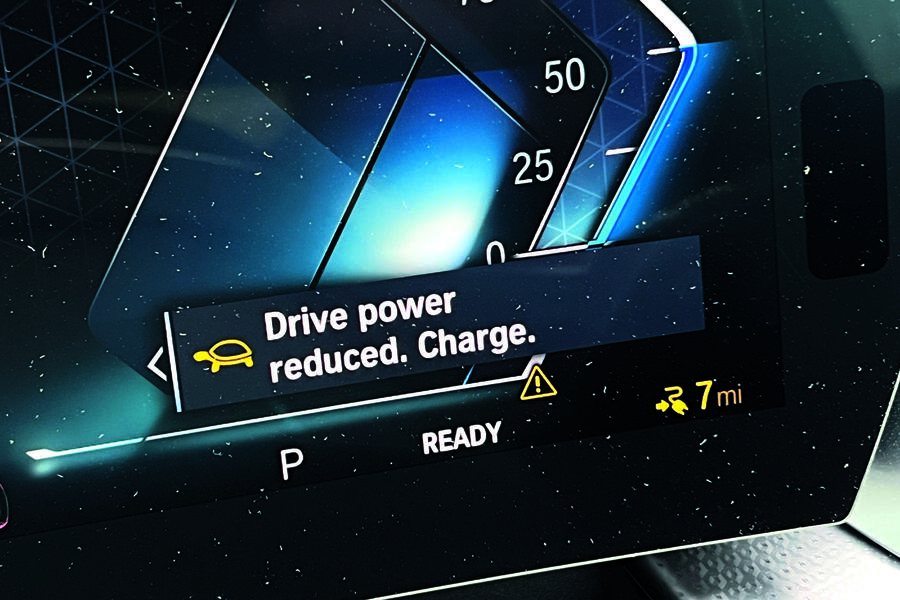 When I did reach a charger, I found myself in the middle of a cul-de-sac, next to a larger BMW iX. This super-fast Instavolt system was also surrounded by shops and a café, which made for a nice pit stop, given the torrential downpour outside.
It cost me more than £30 for 150 miles of range, though, which dampened the experience – and it never reached a charging speed faster than 77kW, when 130kW was advertised.
Feeling better now
I wasn't initially a fan of the iX1's seats, but my body has come round to their firmness and I now find them very comfortable.
Loathe it
There's a catch…
The floor mat behind the driver keeps getting caught on my seat when I'm electrically adjusting it. It's getting annoying. 
Mileage: 5871
After a Model Y-style 'frunk'? Look elsewhere… – 9 August
There's no front boot in the iX1, unlike its Tesla Model Y rival, which has 117 litres of space, plus a huge 854 litres at the rear. Thankfully, the iX1's 490 litres is more than enough for me, and it's just 10 litres shy of the larger iX. So why did I venture under the bonnet? To top up the washer fluid, which I've exhausted in this rubbish 'summer' weather.
Mileage: 5110
Day-to-day use reveals a few shortcomings with our electric small SUV – 2 August
Time is flying with our BMW iX1. In our short time together, it has been all the way to the north of England, into and around London and to two airports at opposite sides of the country. Things got off to a rocky start, though, with some consistent bugbears that very much dampened the experience.
My biggest gripe of all is the iX1's regenerative braking. There are three settings to adjust the level of energy recuperation: Low, High and Adaptive. When I picked up the car, it was set to Adaptive, which uses sat-nav data and the front camera to slow the car automatically with varying strength when you lift off the accelerator. It's based on what's ahead of you and is mostly effective during urban driving.
On any roads above 30mph, however, it's incredibly frustrating and unpredictable. The brakes are applied automatically at what seems like random and it feels far too aggressive. I often dread to think what some of the drivers behind me must be thinking when I appear to slam on the iX1's brakes.
The system isn't helped by a sat-nav mapping system that's slightly out of date. For example, it thinks a now-finished piece of 'smart' motorway still has a 50mph limit rather than 70mph. Additionally, coasting is pretty much a no-go, because the system will interfere too much. Passengers have also mentioned how uncomfortable this makes it.
Switching to the Low setting changed things for the better. It has genuinely transformed my driving experience, even though selecting it involved a maze-like mission through the car's touchscreen infotainment. Thankfully, it remembers your selection when you switch off and start the car again, so now my passengers and I can enjoy a much more comfortable ride.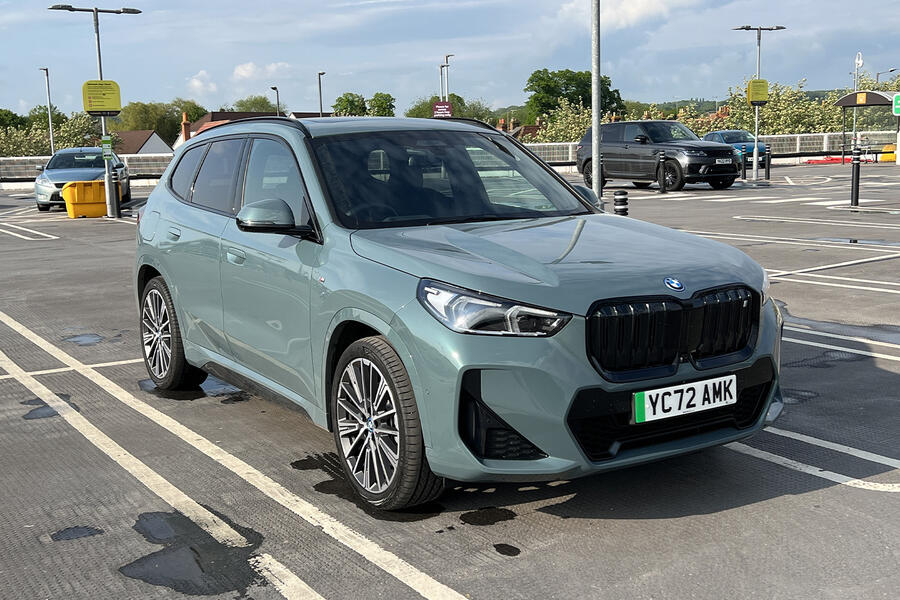 Away from the braking, the iX1's powertrain is impressive. It packs incredible pace and it's excellent when setting off from a set of lights. While power tails off at higher speeds (as in most EVs), energy delivery from 40mph to 70mph is satisfying and effortless. That goes for all driving modes, including Efficiency. The car certainly doesn't feel like it tips the scales at 2085kg.
Charging the iX1 has been a mixed bag, and the in-car range reading seems to vary from decent to downright rubbish. I most often charge at a bank of MFG charging stations, which provide charging speeds of up to 150kW. I've never seen the iX1 hit its claimed maximum charging rate of 130kW; it always maxes out at just 75kW. This isn't down to the charger, either; I've visited several Gridserve, Instavolt and PodPoint chargers, all of which have presented similar results.
On recent good days, I've come back to the car after an overnight charge and been presented with a 245-mile range, but it has been as low as 205 miles on occasion. I can't work out why: the air conditioning is perpetually switched off and the weather has remained largely the same over the couple of months I've been with the iX1 so far, with temperatures rarely dropping lower than 20deg C.
I would also like to be able to see a readout of the car's efficiency (in miles per kWh) on the digital driver's display without having to switch to a different view mode. The display does show other useful data, though, such as the number of miles recovered through regenerative braking.
After a shaky first month or so, things are mostly looking up. Now that I've sorted out the iX1's braking shenanigans, we can really start getting down to business.
Love it 
The premium Harman Kardon audio system fitted to our car is excellent. It puts even my not-so-cheap earbuds to shame.
Loathe it
Muck magnets
Much of the iX1's interior trim attracts smudges, dust and dirt. I now store a cloth in the car specifically to remove it all.
Mileage: 3845
Life with a BMW iX1: Month 1
Welcoming the iX1 to the fleet – 5 July 2023
Some car makers have been criticised for their slow transitions to all-electric power, but that's certainly not something that could be said about BMW. The German giant is well and truly engaged in ramping up its electric offensive, and now – or at least at the time of writing – it is offering no fewer than 10 pure-electric models.
The latest addition to the Autocar fleet, then, is the brand's smallest SUV, which in turn has become its smallest electric model. It's the iX1, which, as you might have guessed, mirrors the internal combustion engine-powered X1, save for its method of propulsion.
The iX1 measures 4500mm long, 1845mm wide and 1616mm high, a set of dimensions that aren't too far off those of the larger iX3, which our road testers thought was good value at a smidge under £60,000. The iX1 sits 9mm closer to the ground than the iX3, however, which is clear from our test car's squat stance.
This iX1 is the second electric car from the German marque to join our fleet in the past year, following editor Mark Tisshaw's six-month stint in the model at the other, somewhat pricier end of BMW's catalogue: the iX. While Mark was impressed with the range-topper, the iX1 acts as the entry point to the brand's EV endeavours and is something of a different ball game.
On paper, things look promising. Replacing the X1's petrol, diesel or plug-in hybrid powertrain options is a dual-motor electric set-up powered by a 66.5kWh battery, 64.7kWh of which the driver can use. Peak outputs are impressive, with 308bhp and 364lb ft available – enough to whizz you from a standstill to 62mph in just 5.6sec.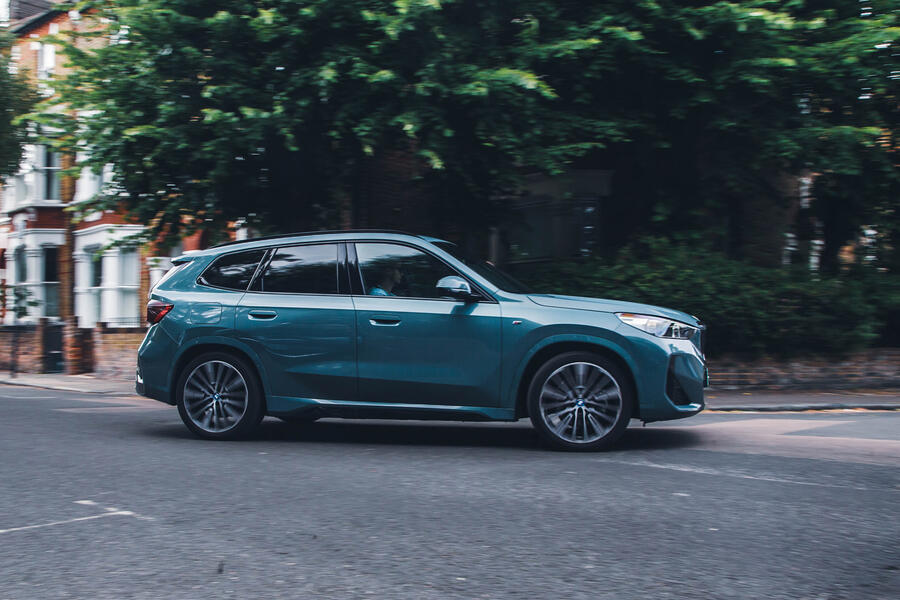 BMW claims a range of 259-270 miles, but so far that appears to be an optimistic estimate. Even on the few 30deg C days we have had so far this year, the iX1's range topped out at around 240 miles. That's not especially competitive. The Audi Q4 E-tron will officially give you about 316 miles, while the Mercedes EQA's range is higher still at 324 miles. Even a mid-level Skoda Enyaq iV will take you almost 100 miles further on a charge.
I've already replenished the BMW's battery at a few rapid-charge stations in my area, and the iX1 at least comes with a manageable charging speed. It can charge at speeds of up to 130kW, which will 29 minutes. While that's probably quick enough for most, it's a world away from the maximum 350kW speed that in theory can be achieved by the Kia EV6, which is also significantly cheaper. The larger iX3 charges at up to 150kW.
Our iX1 is a top-rung M Sport model equipped with several option packs that flood the cabin with technology, leather and storage areas. There's a heck of a lot of equipment to talk about here (we'll look at it all in more detail in future reports), but our headline toys include dual-zone climate control, more safety kit than you can shake a stick at and a 10.25in digital display paired with a 10.7in central touchscreen sporting BMW's latest iDrive 8 infotainment system.
I'd normally be excited by iDrive, but the iX1 is devoid of buttons, meaning everything now has to be controlled via the touchscreen. Perhaps the biggest loss is that of BMW's brilliant rotary dial, which has also been removed from the standard X1 but remains in the range-topping iX.
I'm not expecting an improvement from what came before, but we'll see how I adapt over the next few months. The good news is that wireless Apple CarPlay and Android Auto are both standard, and they pair nicely with the wireless charging pad.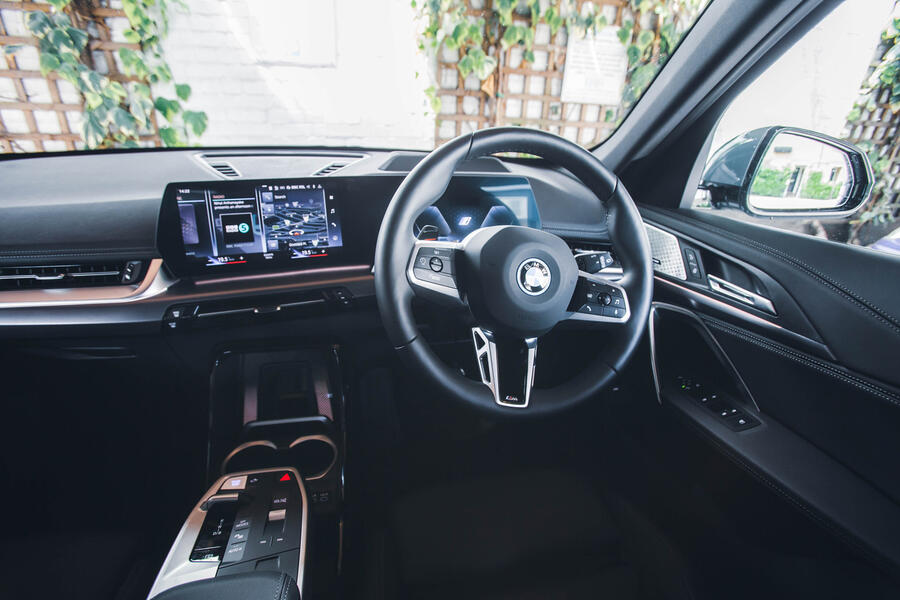 Our M Sport iX1 looks more aggressive than the lower-spec xLine model. It gains adaptive headlights, 20in wheels, sports seats, an M Sport steering wheel, M adaptive suspension and quite a bit more besides. Add the £1575 M Sport Pro Pack featured on our vehicle and you also get gloss black exterior trim, a premium Harman Kardon surround sound audio system and sun protection glass.
The cabin is a really nice place to be, helped in no small part by the £1100 panoramic sunroof, through which light floods into an otherwise dark interior. Having an extra source of fresh air will be welcome over the summer, too. The seats are comfortable, but the ride will take some getting used to. Even with the adaptive M suspension, the going is always very firm and borderline uncomfortable on some B-roads.
Space in the rear is impressive. There's room for three passengers in the back, giving the iX1 an edge over rivals such as the Volvo XC40 Recharge. Behind the seats, which collapse into a useful 40/20/40 split, there's a 490-litre boot, which isn't far off that of the larger iX3. It is, however, dwarfed by the 854-litre boot of the Tesla Model Y, but the same can be said of most other family SUVs.
BMW's entry-level EV has all the technology you could need or wish for. It also really does feel like a solid machine, as well as a premium one (my previous test car was a Ssangyong Korando E-Motion). I'll have plenty of time over the next few months to get to grips with its autonomous driving capabilities, revamped iDrive and, at the risk of upsetting our road testers, the Hans Zimmer-curated IconicSounds system. And that sunroof? Glorious.
Second Opinion
I was impressed by the iX1's interior, and if you want an electric SUV with performance and sharp looks, it could be for you. But it will be interesting to see how Jack handles the M Sport's 20in alloys day to day. The months to come could reveal if the entry xLine is the better bet.
Jonathan Bryce
BMW iX1 xDrive M Sport specification
Specs: Price New £56,045 Price as tested £62,775
Options M Sport Pro Pack £1575, Technology Plus Pack £1205, Black Vernasca leather with grey contrast stitching £1150, Comfort Pack £1105, panoramic glass sunroof £1100, Cape York Green metallic paint £595
Test Data: Engine Two electric motors, four-wheel drive Power 308bhp Torque 364lb ft Kerb weight 2,085 Top speed 111mph 0-62mph 5.6sec Range 259-270 miles (WLTP) Economy 3.4mpkWh (WLTP) CO2 0g/km Faults None Expenses None